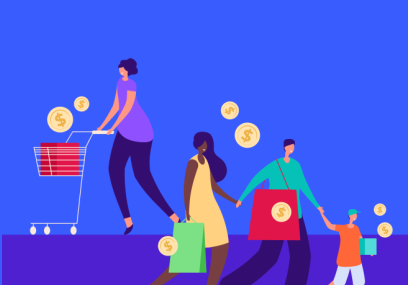 In a recently concluded roundtable discussion hosted by a leading ETRetail in association Salesforce, the conclusion was that omni-channel presence is no longer a luxury but a must have for brands to be relevant. Like the rest of the world, the business of retail has undergone a sea change and India in particular has witnessed this change all of a sudden, leaving brands to scramble and adapt as quickly as possible. At the core of the change is the buying behavior of Indian consumers who seek to engage with their preferred brands from just about anywhere, giving rise to the concept of omni-channel presence. Leading the omni-channel presence is online touch point where 43.5 per cent of mobile phone users in India are on their smartphones, the most used device for gathering product information and in a large number of instances, making the purchase.
Phenomenal retail growth
Pallab Roy, Partner, Business Consulting KPMG- India who moderated the session, pointed out as the world's fifth largest economy, a position that India earned recently, the potential for retail is unprecedented. He expects India's retail to reach $1.7 trillion by 2029. In terms of digital clout, India ranks the second largest nation of Internet users and the third largest nation of e-commerce purchasers. About 25-30 per cent of retail consumers shop via their smartphones. This combination clearly spells out how brands need to dominate the digital space to communicate, reach out and capture consumers and their wallets.
Roy also stated this scenario was not only conducive for retail brands to reach out to a larger populations but also imperative to be able to sustain themselves in the long run. With impressive growth figures, e-commerce would become perhaps the largest point of sale in the near future. However, he advised brands need to be omni-channel driven rather than just focus on online presence.
A case in point is Godrej Interio, the reputable furniture company. As Subodh Mehta, Senior Vice President, Godrej Interio who participated in the roundtable stated, whilst Godrej Interio has a strong physical presence as consumers still prefer to inspect furniture in real environments, they noticed the changing times and have established their online presence as well which increased their sales immediately – in many cases decisions to purchase were made online and the actual purchase was made in store. Whilst the Indian consumer is very comfortable with a brand's channel plurality, they usually focus on the channel that suits them best or is the most convenient and then remain loyal to these channels. Moreover, the nature of the product dictates the channel preference.
Talking about brand Suta's retail transformation journey, Taniya Biswas, Co-Founder explained retail businesses cannot rely on a single channel to survive in this highly competitive market. As a brand Suta aims to provide 365 days of work to weavers which is why, they had to venture into multiple marketplaces, both physical and virtual so to ensure business continuity even if their performance on one channel is substandard.
Talking about the major challenges retailers face in omnichannel ecosystem, Saurabh Gupta, Founder and Director, Kalki Fashions said, none of the customers are purely offline or online shoppers. Therefore, to cater to their needs brands must ensure accessibility across various touchpoints. However, a major challenge that retail brands come across in the omnichannel model is providing 100 per cent inventory visibility to customers across all channels, which happens to be imperative to ensure customer retention."
Changes in customer journey and experience
Earlier, the vast majority of retail was discount driven but nowadays convenience, availability and choices are the main drivers as consumers are willing to pay full price to enjoy these benefits. Creating a superior customer experience through the right mix of omni-channel, logistics, inventories and customer service will make brands establish themselves firmly in the retail firmament. Interestingly, as digital natives Gen Z enter the retail market place, they are driving the digital channels to provide their complete brand experience which should ideally end in online purchases. This insight is particularly useful as brands can then segment their consumers and focus on communicating and driving traffic towards sales by using their multiple channels, prioritizing each channel for the best suited consumer segment.
On Gen-Z prompting retail brands to go digital, Almona Bhatia, Chief Strategy Officer- Luxury, Tata Cliq said, customer mindset has shifted considerably over years. With Gen Z streaming into the customer pool, organizations are increasingly inclined towards e-commerce since the young generation that is digitally native prefers online over offline.
Explaining why more and more consumers are shifting to digital retail, Devangi Parekh, Director, Aza Fashions highlighted, customer taste has dramatically changed over the last few years. They are comfortable with spending large amounts of money online provided they get adequate information and quality service. Modern-day consumers are digitally present and the convenience factor of e-commerce is an added incentive for them to move to online retail.
Importance of technology in retail journey
Integrating technology in the retail journey has become imperative felt experts, as Nishant Kalra, Regional Vice President-Digital Experience, Salesforce India, said, consumers expect to get the same hyper-personalized shopping experience across all touchpoints, whether physical or virtual. Hence, Salesforce India engages with numerous brands and technology solution providers to homogenize customer journeys across multiple channels, be it online, offline, or even meta-based. He said, technology has made this milestone achievable for retail brands. However, maintaining equilibrium between technology integration and human interaction is imperative to augment service quality as well as customer experience.