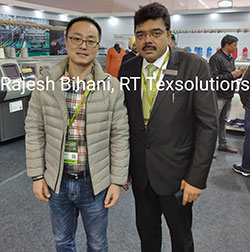 "The knitting industry has grown over the past few years with over 4,500 machines making knitted shoe uppers in New Delhi today," notes Rajesh Bihani, Managing Director, RI Texsolutions, a company engaged in manufacturing knitted shoe uppers for adults and children.
Dismal outlook for future
However, the market is slow and the payment situation is bad. Petrol prices have shot up due to the US-Iran conflict with uncertainty prevailing in the market. "We don't expect the situation to improve even in next six months. People making inferior products are more likely to face problems. We, at our company, always emphasise on the quality of our products. This helps us survive market upheavals," explains Bihani.
Though the US-China trade war was expected to divert most Chinese business to India, however, it got diverted to Bangladesh, Myanmar, Vietnam. "We couldn't take advantage of the situation as we don't have the capacity to accommodate these orders. We also adjust our manufacturing quality according to the final cost of the product. Hence, we end up manufacturing most of our products with inferior machines," affirms Bihani.
Government support needed to ensure market growth
As the Indian textile industry has to compete with global textile hotbeds like China, it needs the government's support to grow. "We need to replicate the policies followed by China and Bangladesh. Though we have a market for branded products, the grassroots or local market has a bigger volume. Customers in this market are not very quality conscious. They focus more on the price of product. On the other hand, urban customers are more brand-driven and can be lured easily through publicity and shows. This scenario can change if customers start focusing on comfort, wearability and quality of product," Bihani opines.
Another challenge the industry faces is the backdoor entry of finished garments from Bangladesh. These garments are not only of better quality but also better priced. "To compete with these garments, we need to revamp our attitude and ideologies. Right now, manufacturers are driven more by profits. They immediately switch to another business if they don't make money in this one. They don't wish to commit themselves to the industry. Training programs are seen more as costs rather than investment," adds Bihani.
Dealing with competition
Offering solutions to deal with the current situation Bihani says younger entrepreneurs should involve themselves in production. "They should improve their productivity and efficiency. For this, each of their production units need to have an R&D department," he points out.
Textile is the first industry to move out as a country develops. Indian companies too are shifting their bases to Ethiopia and Africa. "Though this is a positive sign, we are losing ground to competitors like China, which is improving its textile quality everyday. We need to buck up to stay ahead in the competition," Bihani sums up.