There is a well-known saying in China's textile industry to commend Shenzhou International Group quoted as "Shenzhou is to the knitting industry what Foxconn is to the electronics industry", speaking highly of the knitting giant that has grown up synchronically with the rapid development of the whole textile industry in China over the years.
As a role model in the industry, Shenzhou is the largest employer with approximately 100,000 employees working diligently in different factories both at home and abroad where there has been an overwhelming job growth of its operations both in Cambodia and Vietnam.
The COVID-19 has an across-the-board impact, which aroused media and government concerns over the business and employment especially in the big companies because their ups and downs have a penetrating influence on the whole textile industry. According to its latest corporate report, as of Feb.28, the actual production capacity was running at 95% since its facilities were rebooted on Feb.10 in the homeland operations, and the pause before the production got restarted would soon be made up for and the finished goods delivery would be realized on time without delay.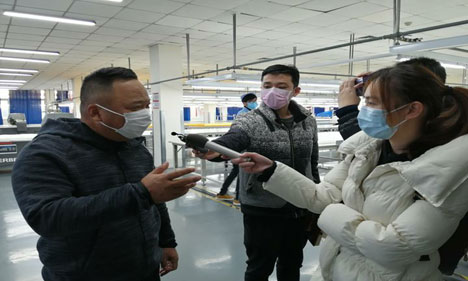 Mr. Ma Jianrong, Chairman of the Group being interviewed by media
In fact, on the very date of Feb.10, the first lot of workers coming back to work amounted to 14,000 in number in different localities, 39% of Shenzhou's 40,000 homestay jobs inside the country. In an on-site interview, Mr. Ma said "The workers who have come back to this production base today actually spent their holidays for Spring Festival here in Beilun District of Ningbo city without going to the other places. The employees now in Wenzhou city, Taizhou city inside our Zhejiang province or workers in Hubei province, where the novel coronavirus situation is a bit severe, are requested to stay at home temporarily. If some people from those regions are already here, we get all of them tested in a professional medical check procedure. If anyone is tested to have a body temperature rise, we send him or her to the local Center of Disease Control and Prevention, and it anyone from these places is tested to result in a normal body temperature, we persuade him or her to go back home and stay there until the situation gets better on a favorable term that it is a leave of absence (LOA )with salary and annual full-time premiums."
Shenzhou's workers come back to workplace in Beilun District, with infrared temperature measurer working on each passer-by
Mr. Ma went on saying that every person is asked to wear face mask with operating desk a bit away from each other and to wash hands at least three or four times a day while body temperature is measured three times during working hours in addition to the entry test. Moreover, for the sake of safety, a QR code is designed and set up for each operator with quick access to the personal updated information.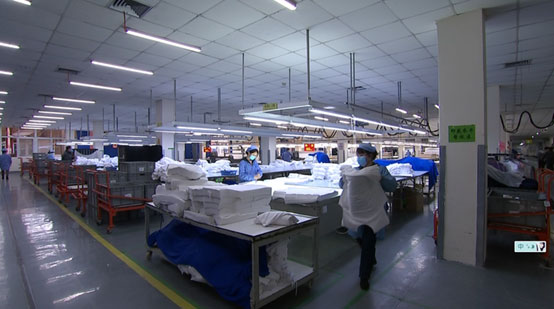 At 16:oo on the afternoon ,Feb.14, a bus with over 20 workers from other provinces pulled up in front of the dormitory building, an initial step that led to a series of chartered-bus plan to carry over 17,000 workers from 14 provinces , such as Sichuan, Gansu, Yunnan, Shanxi and Shandong , on more than 700 buses to the workplaces across the country on a proximity principle where workers in different provinces are taken to the operations nearby, said Mrs. Li Saizhen, Chairwoman of Workers Union in the company.
A chartered bus stops inside Shenzhou's compound with workers returning to work
Shenzhou International got publically listed in Hong Kong Stock Exchange in 2005 and turned out to gain market capitals amounting to HK$117.32 billion and dividend yield by 2.31%, and P/E by 22.12% on March 16,2020 according report by HKEX. The company's business income is largely from the international sportswear and knit apparel brands, like Adidas, Nike, Uniqlo, Puma as well as Decathlon, Russell and Mizuno etc. and its advanced productions in vertically-integrated system on basis of knit fabric-dyeing, printing & finishing-garment package services make it the choicest one for the long-term supply chain partnership with those big names. The two production bases in Vietnam (fabric knitting and garment sewing) and one garment operation in Cambodia are playing important role in taking more orders to compensate for what is short of in China on merits and demerits conditions.
When the number of new infections is shrinking in China, the COVID-19 has swollen to be an international pandemic, dragging a lot of countries into an intractable chaos. The role model company is making itself an exemplary one in addressing the challenging issues that cropped up at the time when a new issue appears significantly spiny.
Contributed by Mr. ZHAO Hong
He is working for CHINA TEXTILE magazine as Editor-in-Chief in addition to being involved in a plethora of activities for the textile industry. He has worked for the Engineering Institute of Ministry of Textile Industry, and for China National Textile Council and continues to serve the industry in the capacity of Deputy Director of China Textile International Exchange Centre, V. President of China Knitting Industry Association, V. President of China Textile Magazine and its Editor-in-Chief for the English Version, Deputy Director of News Centre of China National Textile and Apparel Council (CNTAC), Deputy Director of International Trade Office, CNTAC, Deputy Director of China Textile Economic Research Centre. He was also elected once ACT Chair of Private Sector Consulting Committee of International Textile and Clothing Bureau (ITCB)