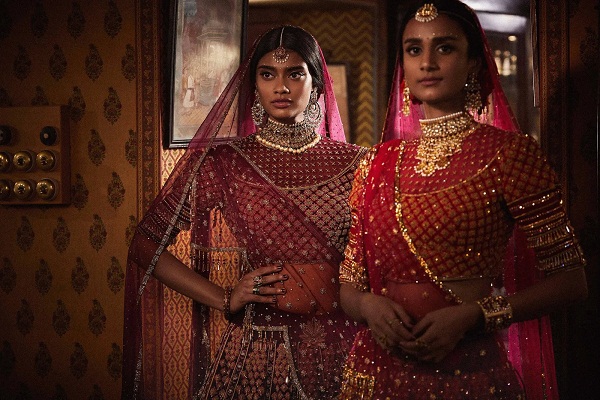 Indian weddings are back with a bang and the festive season has sky-rocketed the sales of the Indian ethnic wear segment to an all-new high. Premium players such as Vedant Fashions Limited (VFL), Nalli's, Jahanpanah, Ritu Kumar, Manoviraj Khosla, Biba, Fab India and Neeru's among others are again selling like never before after the dismal Covid years.
Women's ethnic wear brands are showcasing and selling a versatile collection of saris, kurtas, shararas, salwar kameez sets, lehenga sets, palazzos, anarkali kurtas and various styles of churidars. For men too ethnic wear kurtas, Nehru jackets, dhoti kurtas, sherwanis and Indo-western men's clothes are doing good business. Kids too are now a big part of this ethnic wear segment of all brands with the most versatile product portfolio of all.
India's wedding industry on new high after Covid years
Meanwhile, the wedding industry is expected to see growth of 200 per cent this year after two years of Covid put a halt on all big social gatherings. The ethnic wear market is driven by almost 9.5 million to 10 million weddings each year. As the new concept of multi-day and multi-event wedding celebrations is catching among all communities, there is need to wear appropriate occasion-specific clothes. There is a radical shift from the tailor shop to the ready-to-wear boutique stores, an addition of Indo-western wear and an increased product portfolio of men's clothes.
Along with this is an increased penetration in Tier II, III cities of India where aspirational clothing and more disposable incomes are on the rise thanks to improved logistical connectivity, digital access and platforms like Instamojo. Also, since these shoppers are not as brand conscious as peoples in metros, affordable prices along with trendy quality products are the USP.
A CRISIL (Credit Rating Information Services of India) study shows, the branded ethnic wear segment is expected to grow at a CAGR of 18 to 20 per cent between FY20 and FY25 and will account for 28 to 32 per cent of Indian wedding and celebration wear market. The versatility of products in ready-made branded ethnic wear is no comparison to tailored clothes at local or premium tailors. Even in branded stores, the garments can be sized to exact specifications along with a premium shopping experience. If we fail to adapt, we fail to move forward and the modern ethnic wear segment has shown us just that.
Manyavar remains VFL's bestseller brand
As a first mover in wedding and festive wear segment Vedant Fashions Ltd (VFL) has seen its business grow. With celebrity brand endorsements and a uniform pan-India presence by strong retailing supported by an omnichannel network, VFL has metamorphosed from a simple start-up to brand leader in less than two decades. Founded by Kolkata-based first-generation entrepreneur Ravi Modi, this branded Indian wedding and celebration wear market segment player has come into its own with the flagship Manyavar brand having emerged as a category leader and a brand of first recall, thanks to celebrity endorsements by Anushka Sharma, Virat Kohli and Amitabh Bacchan among others.
With first-mover advantage, efficient marketing, promotional strategies fewer sales or discounts, Manyavar has allowed VFL to achieve a higher gross margin of 75 per cent on net end-customer sales as compared to other rival ethnic brands that usually make 45-60 per cent. VFL's business strategy is to have a pan-India presence with a strong retailing proposition supported by its omnichannel network and the strength of its brands. As an aspirational occasion-specific brand, Manyavar is VFL's flagship brand but now the company is also focussed on upselling its other brands such as Twamev, Manthan Manyavar, Mohey and Mebaz while catering to the mid-market segment also.