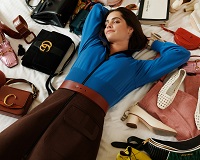 Luxury fashion labels have always been reluctant about the resale market. However, the perception is changing now with growing popularity for secondhand luxe goods and focus on sustainable goods. In fact, many luxury brands are partnering resale platforms to increase sales.
Committed to responsible fashion
As per a Refinery29 write up, brands now consider resale integral to maintaining value. They view it as a strong motivator for shoppers to buy luxury goods, says Allison Summer, The RealReale.
ThredUP's 2020 Resale Report expects the secondhand luxury goods market to grow from $28 billion in 2019 to
$64 billion by 2024. Of late, there have been several notable partnerships between companies and designers. For example, designer Victor Glemaud launched its first shoe collection, created in collaboration with Nigerian accessories brand Shekudo, on the The RealReal platform. The luxury resale platform was also home to conceptual fashion label Imitation of Christ's Spring '21 collection. Similarly, designer Christian Siriano altered two dresses from his collection from ThredUp and relaunched them on the runway.
Embracing their own secondhand clothes has become a way for brands to show their commitment to responsible fashion. Most recently, social shopping app partnership app, Depo partnered designer Kenneth Nicholson to launch Division 332-a new collection made from discarded fabrics.
Adopting circularity in fashion
Brands are also embracing secondhand fashion to rid themselves of excess inventory. Sustainable fashion brand Mara Hoffman organized an archive sale in July to release unsold inventory. She has been a strong supporter of secondhand clothing and believes real platform give another life to discarded garments besides extending their lifespan. The designer recently launched an in-house resale platform know as Full Circle Marketplace to buy her own brand's garments.
The RealReal's partnership with sustainability trailblazer Stella McCartney in 2018 has encouraged more brands to embrace resale. In October, the resale platform launched an online shop with Gucci to sell a curated selection of secondhand goods from consignors. Like in February, Vestaire launched a buy-back program with Alexander McQueen to enable customers to sell their second luxury items in exchange for store credit. Thus, resale is fast becoming a way to adopt circular fashion, says Steve Dool Head-Brand Partnerships, Depop. As the 2020 Vestiaire Collective X BCG survey reveals, around 62 per cent consumers are more willing to purchase from fashion brands partnering resale platforms.
This popularity is being driven by younger consumers' growing interest in sustainability. In future, more such partnerships are likely to be formed as designers are keen to expand the lifespan of their collections by making clothes that can be resold.