The pandemic and now the Russia-Ukraine war have put a lot of pressure on global apparel market across the value chain. The industry is coping with numerous issues including rising raw material prices, carbon footprint and others, Cem Altan, President IAF spoke to Sanjay Chawla, Global Convener, FashionatingWorld on the sidelines of CMAI's The Fab Show on the numerous challenges being faced by the industry and how its evolving out of the crisis.
What are the challenges being faced by the global apparel industry?
The industry was undergoing many changes even before the pandemic but it got accelerated with Covid. However, the bigger challenge at the moment is the Russia-Ukraine war. The pandemic had forced many countries to close businesses, especially in the US and Europe, which affected the apparel supply chain. At the same time, supplying countries like Turkey, Bangladesh, India, China among others too stopped working for a few months this caused major problems across the supply chain. During the pandemic, many brands did not pay their dues and cancelled orders which added to supplier's problems. Now, with Covid ebbing some normalcy is returning. However, suppliers and brands need to rebuild relationships and so that similar mistakes are not repeated in future.
The biggest issue at the moment is ever increasing energy and raw material prices. Hopefully, with collaboration between suppliers and brands this problem will be solved. Global apparel business is worth around $1.5 trillion expected to grow to $2 trillion by 2026 but during the pandemic 40 per cent business was lost. Indeed, it's difficult to recover again but hopefully in 2022, we will be able to gain some of it back with different business modules.
Another challenge is reducing the apparel industry's carbon footprint especially with EU passing a legislation which aims at a 55 per cent reduction in carbon footprint by 2030 and zero by 2050. To overcome this, the industry needs to work together and introduce collaboration from consumer to brand, manufacturer, and raw material producer to government. We have to collaborate to achieve zero carbon footprints.
The other challenge is that even before the pandemic the industry had started digitalization and Covid increased that pace. Digitalization has given people an opportunity to grow their business through different business modules. However, this is an expensive process and government help is needed. In fact, many SME's needed government help to survive the pandemic. Digitalization will give better opportunities to be more productive and transparent with better data collecting.
How will IAF be able to help the industry in facing these challenges?
The IAF is committed to education and manufacturing continuance. We have to educate our members about the new EU legislations. We organise seminars, webinars and invite EU delegates and experts to explain future scenario on carbon footprint and reducing carbon emission. Also, we are talking to big groups like Inditex, H&M, PVH Corp and Bestseller who dominate the market. There is huge demand for sustainable materials and not even 10 per cent is available. We are talking to big groups to look at ways at improving supply of sustainable products. As per EU's legislation, brands cannot just use sustainability as a marketing tool and put labels of sustainable materials on their products, without explanation. They need to meet EU's requirements as well. IAF is educating members and suppliers about this and it's a huge challenge.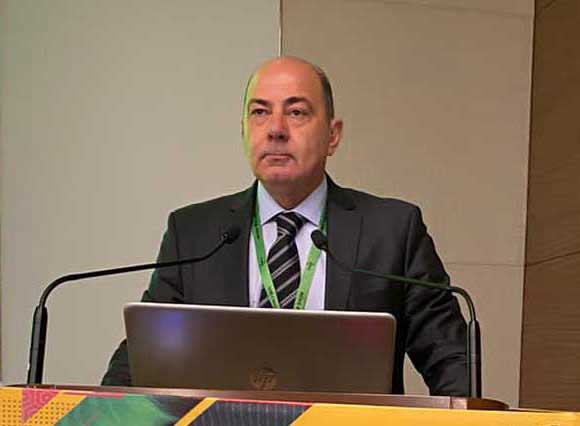 During the pandemic many brands did not pay suppliers their dues. Earlier, suppliers did not have a mechanism to fight this. Now IAF is holding discussions with big groups who were exemplary during the pandemic in paying manufactures and not cancelling orders. These big groups can become an example for the whole industry. We are looking at drawing up guidelines for suppliers, so that they can take action based on the terms of trading, payment, cancellation rules and rights for goods during delivery.
Moreover, audit has become complex and a major cost for manufacturers. Each brand asks factories for different audits which is cumbersome. It is an expensive process and lowers production during the period of auditing. Hence, we are talking to big brands for a common auditing code. If one independent audit company has done the process it should be acceptable for all brands.
With suppliers not being paid during Covid, should this be a part of the contract now between buyers and sellers? Will IAF be able to enforce it?
We are working with 14 members of IAF; GIZ in Germany; Better Buying initiative in the US for better buying practices. Indeed, this is just the start of an initiative hopefully, we will be able to inculcate it among brands and they will accept it.
What consequences will the EU's new sustainability legislative have on clothing manufacturing?
Global textile industry is the second largest pollutant, so as human beings we have to take responsibility. If I am responsible, then only my business will be responsible. We have to work together to stop polluting the environment. The process has to begin from cotton producer, fibre producer of petroleum goods, yarn producer, fabric producer then apparel manufacturer. We have to take precautions and adopt sustainable ways like use less water in our processes; be more productive and waste less; use digital solutions. This is the responsibility of each and every one of us.
Will the industry be moving towards slow fashion or consuming less? Is the industry ready to accept this?
It starts from what consumers want. A study in the US showed millennial are more careful but at the same time fast fashion is growing there. This is the conflict everywhere. As teenagers and millennial are more aware, their demand will give us direction and targets. At the moment, manufacturers want to produce less and also sell at a higher price tag but the problem is consumers do not want to pay extra which means being less sustainable. We have to educate customers, so that they understand sustainability costs more money and if they don't pay suppliers cannot survive. This can be achieved through collaboration between consumer and supplier.
Raw material prices, especially cotton has increased. What impact will it have on garments? Will supply chain be able to absorb the price rise?
The supply chain is not in a position to absorb anything anymore. Reason: with an increase in energy prices, sustainable production, cotton price rise etc, suppliers are on the edge, working with almost no profits. Increased costs have to be passed on to the consumer now.
Cotton prices have shot up lately and almost 60 to 70 per cent clothes are made of cotton. China is one of the biggest cotton producers but many European and American brands have suspended business and buyers refuse to take Chinese cotton grown in Xinjiang region. Of course, removing Uzbek cotton ban was a good move. The cotton produced in India, Pakistan, Turkey, and Egypt is not enough, and production needs to increase.
Also, there is demand for organic cotton even though it's expensive but supply is limited. So, we have to find alternative fibres, like cellulose. Indeed, a lot of research and developments is happening on vegan fibres once these options are available future can be better.
Many brands have withdrawn from Russia because of the war with Ukraine, how have Turkish brands been affected?
Turkey has been trading with both Russia and Ukraine. The latter is one of our good partners in garments business; we mostly sell branded goods though Ukraine has completely stopped buying. Also, many Turkish companies that had business in Ukraine could not collect their dues putting them in a difficult position. With international brands moving out of Russia, it opened new opportunities for Turkish brands. It's good for business. However, the war must stop.
What is Turkey's position in global textile and garment industry, what future does it hold?
Because of Covid buying and supplying countries have changed. With Europe looking more and more towards nearshoring, Turkey was one of the biggest gainers. About 70 per cent of Turkish apparel export is to EU, this gives advantage to customers as its time and price effective. The US too is recognizing Turkey after 20 years. Before the quota and duty regime, Turkish brands were popular in the US but after the quota regime, new generation buyers don't know Turkey as a supplier. We are working towards introducing more and more Turkish brands in the US. In the last three years, our work has helped increase business by about 50 per cent. And being close to Europe, Turkish textile producers have increased export 300 times to the continent. They are increasing investment as well because Turkey is one of the biggest investors in textile machinery after China.
How has the sharp fall in Turkish currency impacted exports?
In Turkey, we don't like currency changes too much. We need a stable currency. Some people think devaluation helps exporters but it doesn't really work like that because global market works on dollars. Cotton, energy, raw materials are bought in dollars, only labour is local. While dollar had an advantage till now, it is becoming a disadvantage with petrol and cotton prices rising and there is a big increase in labour cost as well. We saw 60 per cent increase in wages this year. Our minimum wage is about $500, and we pay for their transport, food, insurance and taxes. It is really high compared to other countries.
What is your global view of Indian textile industry as the head of IAF?
As you know, the US and EU have problems with China on cotton and trade issues and China's apparels have become more expensive. Even though China is still one of the biggest and will remain biggest exporter of apparels their share is going down and Bangladesh, Vietnam, Sri Lanka, Pakistan, India are gaining. I think by 2022-23 India will grab a larger share of apparel export market.
Do you see India as a potential apparel manufacturer for global market or do you look at it more as a raw material producer?
No, India has over a billion people and there are a lot of opportunities in the domestic market. India is strong in some goods and they have the raw material – cotton – as well. If this advantage is used properly India can be a major player and increase market share. I see a lot of potential among Indian businesses who are keen to work and collaborate.