The UK's Enhanced Generalized Scheme of Preferences (GSP) poses a huge risk to Bangladesh's apparel trade. The rule states, Bangladesh may lose duty-free access to the UK apparel market, post its graduation to a developing nation, if its apparel exports exceed the set limit. Thereafter, regular tariffs will apply to exports.
Tough times for Bangladesh textile, apparel exports
The rule may impede Bangladesh's duty-free export facilities to the UK. In particular, it may obstruct textile and apparel exports if the export ratio exceeds 47.2 per cent. The proposed rules are similar to those stated in the EU's GSP Plus that provide GSP benefits to low-income and lower middle income countries. Under the enhanced rules, the UK market will include Vietnam, India, Indonesia, Pakistan and Sri Lanka. Bangladesh's garment exports to this market are most likely to exceed 47 per cent after its status shift to a developing country. Hence, to continue benefitting from the GSP facility, Bangladesh needs to comply with 26 international agreements. It needs to comply with international human and labor rights, good governance and sustainability rules.
The Enhanced Framework directs countries to agree to comply with the 27 international conventions and their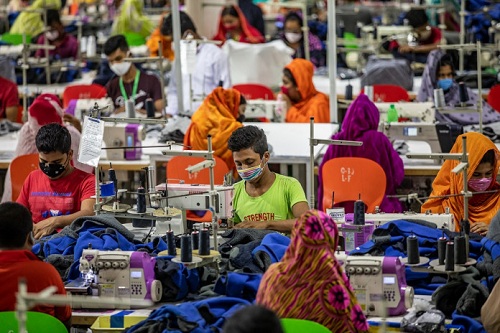 reporting requirements On the other hand, under the scheme's General Framework, the World Bank classified low-income and lower middle income countries will continue to enjoy reduced tariffs on two-thirds of product lines.
Duty free access to UK market under theat
The Enhanced Framework also gives UK the right to cancel or suspend such facility for a country for reasons such as violations of human and labor rights, violation of international conventions on anti-terrorism and money laundering, violation of UN Single Convention on Narcotic Drugs and the failure to prevent illicit trade. Bangladesh fears this may prevent it from enjoying duty free access to UK market for another three years till 2029 after it moves out of the LDC status in 2026.
For Bangladesh, UK is the third largest export market for apparel products. As per Export Promotion Bureau last year, Bangladesh exported garments worth $3.7 billion to UK, which was 9.68 per cent of the country's total exports. Of this, export of woven garments was worth $1.33 billion, knitwear $2.11 billion and home textiles $96 million from the country in FY21.
Unconditional GSP facility for RMG exports
Bangladesh Commerce Ministry hopes UK will continue GSP benefits even under the Enhanced Framework. Meanwhile, they will try to get unconditional GSP facility for RMG exports with relaxation under product graduation rule. Post-Brexit, UK plans to sign more bilateral trade agreements, says Khandaker Golam Moazzem, Research Director, Centre for Policy Dialogue. The country plans to sign free trade agreements with various countries to reduce the importance of unilateral scheme. Therefore, Bangladesh needs to ensure continuation of GSP facility for three more years after even after status shift from LDC.