As the pandemic halted travel, fashion brands across the world took the semi-physical, mostly digital approach to present their collections. The phygital approach, guarantees almost six times the impact of purely physical or digital events, say market analysts at Launchmetrics.
Multiple approaches for phygital shows
A Financial Times report defines the term 'Phygital' in multiple ways. As the shows held during the current autumn season indicate, they can include both an intimate reception like the one held by Prada in Shanghai in September alongwith a digital film to showcase the label's Spring/Summer 2021 collections. Similar approach was adopted by Dior to launch its Kim Jones' 2021 Pre-Fall menswear collection while Bottega Veneta staged two catwalk shows for Spring/Summer 2021 in October 2020.
Designer Sarah Burton also presented her Spring/Summer 2021 Alexander McQueen collection in the brand's Bond Street store, via a film with Jonathan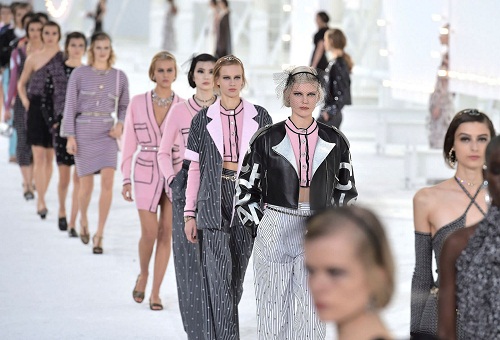 Glazer that showed her dressed being drenched in mud and water as models walked through the river Thames in London at 4am. Kering brand Saint Laurent filmed its latest Spring/Summer 2021 show in a desert. This helped the group grow its online sales by 101.9 per cent while e-commerce sales accounted for 12.5 per cent of total retail sales in the first nine months of the current year.
Anthony Vaccarello, Creative Director, Saint Laurent often designs his physical shows for his online audience too. On September 9, the designer launched a film to showcase a new menswear range, with models darting across Parisian rooftops. The show was later live streamed and watched almost 42.4million times. Following suit, Jones' Pre-Fall Dior was also digitally and without an audience. Streamed across 18 different channels, including the gaming-geared platform Twitch, the show has garnered 140m views since December 8.
Integrating digital fashion with social media
Though brands have been streaming catwalk shows for almost a decade new, they are now integrating these social-media engagement. As was the case Balmain's Spring/Summer catwalk show, which alongwith a physical event also included 58 video-screens, creating a "digital front row" of video figures who could not attend including Anna Wintour, Jennifer Lopez, x`and Cindy Crawford. Bottega Veneta's S/S21 physical show in London's Sadler's Wells Theatre was also later streamed across multiple social channels like Tik Tok. Streamed across social media platforms like Weibo and Douyin, Prada's phygital show had over 48 milllion views. The brand' Weibo hashtag #PradaSS21 hit 170 million views in one day. The success of the brand's phygital event led to its triple digit growth in e-commerce in the first half of 2020.
The tremendous success achieved by these shows the industry has become accustomed to experiencing and purchasing fashion online. Only time will tell, if it will ever shift back to its old method of functioning.