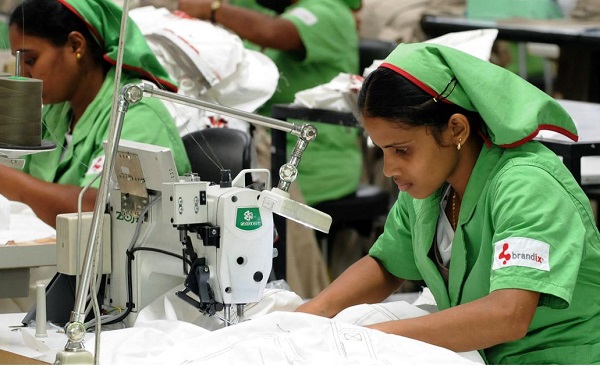 Yohan Lawrence, Secretary General, Joint Apparel Association Forum (JAAF), Sri Lanka, is optimistic the country can increase its annual apparel export revenue by at least $500 million if they are allowed to export more items to India. Indeed, Sri Lanka's apparel manufacturers have successfully been doing business both in India and across the world even through the crisis. The apparel sector is one of the top export earners for the country and maintained production even through the worst economic crisis. However, between these success stories brews another not so happy story, where workers are being laid off without much compensation, salaries have been reduced and factories shut down.
Workers face job losses
As per reports, around 300 apparel manufacturing companies in Sri Lanka employ almost 350,000 workers who produce garments for major international brands. And triggered by the recent economic crisis, almost 50,000 garment workers have lost their jobs.
In fact, a new research published by Clean Clothes Campaign (CCC) highlights, workers in Sri Lanka have not been receiving full Emergency Relief Allowances meant to alleviate their desperate situation because of the economic crisis. CCC called on major brands sourcing from Sri Lanka to take responsibility for their workers' survival as well as their right to organise and to decent labour standards.
Major global brands that source from Sri Lanka include: PVH (Calvin Klein, Tommy Hilfiger), Gap, Nike, Victoria's Secret, Amazon, Asos, Next, Marks & Spencer, Patagonia, Columbia Sportswear, Ralph Lauren and others. This CCC has called upon these brands to ensure workers in their Sri Lankan supply units are paid the ERA unconditionally and that their right to organise and to have decent working conditions in line with the Conventions of the International Labour Organisation are safeguarded.
As per a AsiaNews report, many Sri Lankan garment factories have not only cut jobs and wages, but also closed entire facilities without paying the paltry compensation recommended by the government.
Indeed, the impact of Sri Lanka's political and economic crisis traversed every aspect of life in 2022. After the declaration of bankruptcy last May, the country's foreign reserves dwindled and rupee was devalued. Inflation touched almost 70 per and the population of 22 million faced extreme hardships.
However, through the crisis the country's apparel sector manufacturers kept their composure, with factories continuing to run. This is mostly because orders continued to come in and exports brought in much-needed forex. And as per Indika Liyanahewage, Chairman, Sri Lankan Apparel Exporters Association, small manufacturers were hit particularly hard as they struggled to manage their expenses. Yohan Lawrence, President, JAAF says, while small manufacturers struggled for survival, larger ones found ways to manage.
Brands need to take onus
Workers were the most affected, as the basic monthly income of many of them struggling with hyperinflation fell to around Rs 25,000. What's more, as per secretary of the Manufacturers' Association, Dhammika Fernando, the number of workers have been reduced in factories with some companies downsizing their operations. While units with 400-500 employees are open four days a week, the workers in these factories have to work 10 hours a day without overdoing it. Experts point out, most workers are migrants mostly women. Their incomes have been reduced or in some cases laid-offs.
Anton Marcus, Joint Secretary, Free Trade Zones & General Services Employees' Union, the largest union representing garment workers in the country says, "Brands have a responsibility to the workers that enable their profits. They must ensure that the factories they source from pay their workers the Rs 10,000 ($27) Emergency Relief Allowance. If factories are not able to do so, then brands should step in and contribute financially to make it possible. The Sri Lankan garment workers have contributed to making these brands rich, the least these brands can do is to ensure their workers get through this crisis." As of November 2022, apparel exports for the year for Sri Lanka stood at $5.14 billion, up from $4.57 billion for the same period in 2021.