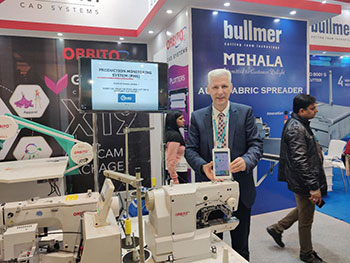 Based in Turkey, Gherzi is an independent, global firm of consultants, technical specialists, engineers, architects and planners working across all areas of industrial and infrastructure projects. Established over 5 years ago, the company focuses on garments. "We develop automatic training systems for our workers, reveals, Razvan Lonele, ATI Head-Garments Division of the company.
Involved in the development of IoT projects, enabling industry 4.0 compliance and digitalisation of garment factories, Gherzi collaborates with machine producers in Turkey. "We are the first European company to link machines with the server. We have collated thousands of machines with a server till date. These machines provide information on production in garment factories. This helps brands to predict and monitor their customers," notes Lonele.
Being flexible, Gherzi systems can handle both big and small orders. "We can connect any machine on our web and get the complete package to support the management's decision in the garment industry. We also deliver self-explanatory videos on a tablet. This helps thousands of people learn from our system," adds Lonele.
Traditionally, the daily reports of workers were written by hand. There was no real time feedback. This also increased the possibility of human errors. "On the other hand, IoT reports can be generated instantaneously on a desktop or phone. This enables manufacturers to take fast decisions by allowing them to collect & collate information," expounds Lonele.
This system increases productivity by 15 percent. The return on investment is up to a year. These solutions work in different countries and factories. "We don't keep software in the cloud. We keep it in clients' servers. This ensures data security."
Gherzi started its Indian operations in 1960's and has executed over 1,000 projects in the country. "Earlier, India used to be a textile industry, now garmenting is also growing," adds Lonele.