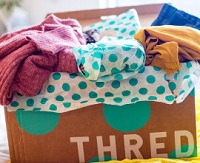 New policies to curb production and disposal of fast fashion are likely to accelerate growth of the US secondhand clothing market. As per the 2021 Resale Report released by thredUP, the market is likely to double in the next five years to $77 billion.
A comprehensive study of the US secondhand clothing market, The 2021 Resale Report surveys 3,500 consumers to highlight growth drivers of the resale market during the pandemic. It also highlights the initiatives needed by the government to accelerate the adoption of circular fashion. The report's 'Impact Section' details a company's initiatives to 'shift to thrift' to extend its used garments' life. This helps the platform compensate the environmental and financial damages caused by fashion. Till date, the platform has reduced carbon emissions by £1 billion, selling over 125 million secondhand items.
Secondhand sales to surpass fast fashion by 2030
As per Sustainable Brands -- the premier global community of brand innovators-- US resale market is projected to grow 11 times faster than retail clothing
market over the next five years. It is expected to more than double the size of fast fashion market by 2030, with two in five consumers replacing fast fashion purchases with secondhand clothing.
The report shows, consumers' purchase of secondhand clothing items increased by seven times last year. In the last 10 years, consumers have saved around $390 billion by buying 6.65 billion secondhand clothing items. Post pandemic, one of three consumers aims to shop for sustainable apparels. Around 60 per cent consumers aim to save money through sustainable shopping while 51 per cent aim to cut environmental waste. Around 50 per cent to opt for value shopping.
Collaboration to tackle fashion's environmental impact
Consumers also aim to reduce their personal impact on the environment. However, for this, they need to collaborate with brands, says Chris Coulter, CEO, GlobeScan's 2020 Healthy and Sustainable Living Study. Brands like Patagonia have already made this shift launching a repairs, returns and resale platform 'Worn Wear' in 2013. Companies including Levi's, The North Face, Arc'teryx, REI, Eileen Fisher, and COS have also launched their own repair and resell schemes in recent years. Additionally, resale platform Rent the Runway has joined thredUP as a fully-fledged resale site.
Increasing brand accountability
To reduce fashion's impact on the environment, around 44 per cent respondents urge the government to promote sustainable fashion. Around 47 per cent call for abolishment of sales tax or introduction of tax credit.
Respondents also urge the government to follow the UK's example and make fashion brands more responsible for the waste created by them. They urge the government to levy on a £1p extended producer responsibility (EPR) charge on each clothing item towards its future recycling. Consultations on this strategy are currently underway in the US.