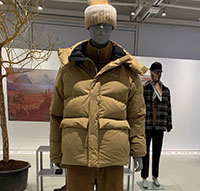 Held in Copenhagen, the CIFF Fashion Fair, focused on sustainability. Besides the regular brands that showcased clothing lines made from organic cotton or other recycled materials, new brands like Tomorrow, OFFT, 1331 and Cult Studios also incorporated sustainability as a part of their DNA.
The Special Project area focused on the theme: ART - Alter, Repair & Transform. It enabled visitors to up-cycle and renew their old jeans with unique embroideries at the denim tattoo bar. Expert menders and designers assisted the visitors and also coached them on how to repair and renew own clothes.
New facilities planned for the sporting area
Young London designers Bethany Williams showcased unique denim pieces conjured up from leftover fabric.
Together with Lee, each of them designed eight denim items, which were exhibited at the Special Project area.
New this season was the Sporting area where labels such as Arcteryx Veilance, Veja, Kavu, Petra Design and Doya presented their new collections. Kristian Andersen, CIFF Chief Innovation Officer had announced last season that it had planned bigger things for the Sporting area in 2020/21. It also plans to build sports facilities for the community.
Setting the trends for F/W 2020-21
CIFF also showcased trends for F/W 2020-21. Sand and earth tones will dominate in color while sporty minimalism, technical and functional details, straight lines, simple silhouettes and wide cuts were translated into the collections by countless labels. In terms of fabrics teddy fur, cord, knitwear and flannel were highlighted.