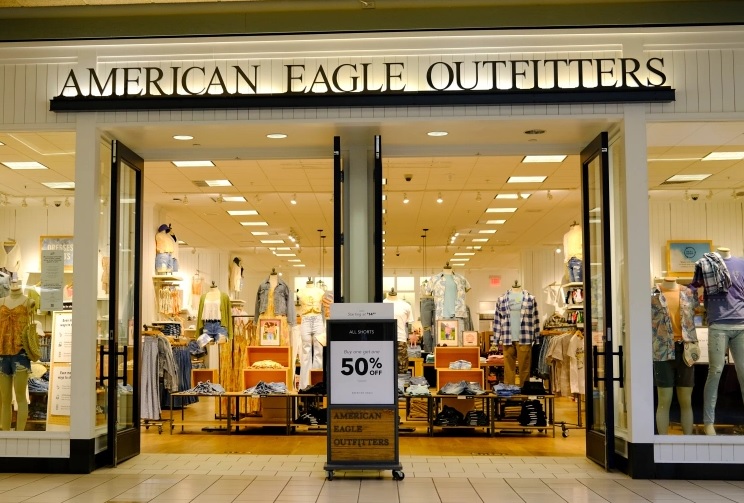 American Eagle is no longer soaring high as it joins the growing list of premium clothing retailers reporting bleak earnings worldwide. The apparel industry is currently trying to figure out what the consumer wants in post-pandemic period with lower demand as inflation squeezes tight budgets of the average middle-class consumer.
Quarterly revenues lower than expectation
American Eagle recently suspended its dividends as in the latest quarter, it fell 6 per cent from a year ago The company echoed other retailers' issues with excess inventory and joined the bandwagon of retailers like Macy's and Nordstrom who have resorted to extreme markdowns to clear products off shelves.
Chief Operating Officer Mike Mathias points out, 'slowdown in demand' caused by the macroeconomic environment. Jen Foyle, Chief Merchandising Officer at American Eagle, says the brand's priorities are "adjusting our assortments and rightsizing inventory." The need for markdowns to move inventory has upset the bottom line of American Eagle, with the company posting earnings of 4 cents per share for the quarter ending July 30, which fell short of the 13 cents per share expected by industry analysts.
American Eagle Outfitters, the parent company to American Eagle, Aerie, Bodd Synder and Unsubscribed brands have all recently posted dismal quarterly results, falling short on both top and bottom lines but still beating analyst expectations for the three months ending August 1, 2022. Except for intimate brand, Aerie which continues to be the retailer's crown jewel, the company seems to be flying in grey and troubled skies.
Brand revenues of American Eagle declined 26 per cent during the quarter, while Aerie's sales surged 32 per cent. Meanwhile, revenues in the company's e-commerce business grew 74 per cent, or 47 per cent at American Eagle and 142 per cent fir Aerie. App downloads also increased during the quarter by 45 per cent. Even then, the company as a whole lost $13.7 million during the quarter, compared with profits of nearly $65 million at the same time last year. That's on top of the company's $257 million loss the quarter before that.
Rival Macy's also slashed its revenue and earnings forecast for the year, with Chief Financial Officer Adrian Mitchell noting it has had to take necessary markdowns necessary to help clear inventory in all segments as "weakening apparel sales over the quarter as the consumer faces higher costs on essential goods, particularly grocery".
Other retailers including Walmart, Target, Gap, and Kohl's have also faced similar problems with bloated inventories and are employing various measures to stay afloat in the post-pandemic inflation-wary consumer. Walmart has focussed on aggressive markdowns to move clothing off their shelves which have led to a significant cut in profit expectations. Gap and Kohl's, meanwhile, are looking to avoid some markdowns with a "pack-and-hold" strategy for certain items, which allows them to reserve excess inventory until demand rises.
While physical stores are currently loss-making, American Eagle Outfitters has been in expansion mode having launched ecommerce businesses across Japan, Hong Kong, Australia, Malaysia, Taiwan, and Singapore, in addition to a shopping site in Mexico.
However, experts feel by 2023, retailers might be able to adjust more quickly to demand as the supply chain normalizes, although for now, they need to struggle to adjust their offerings. The focus will be on expansion in important international markets where there is significant opportunity for growth, even though these may be smaller countries that were not on the map in pre-covid times.