R D Udeshi, President, Polyester Chain, Reliance Industries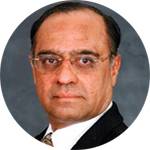 "Once the country opens up after the lockdown, at the onset, we will face severe worker issues. Textile industry is a labour-intensive industry and with large number of workers having returned to their native bases before and during the lockdown, availability of labour would be scarce. This is generally noticed after festivals and we are likely to face a greater challenge in bringing them back to work. However, we expect things to normalize by May, assuming that the lockdown is partially and reasonably eased by April. Some units will restart aiding workers to return back to their manufacturing hub and situation would gradually stabilise"
India is going through very challenging times What do you think will happen to the garment and textile industry post lockdown?
Let me begin with Reliance Industries, the Leadership strongly believes that the organizational family is more important than trade or business. We have around 1,70,000 employees and considering the average size of a family, about half a million people will be our criteria. We have our own hospitals at various places to provide medical aid. We have our own units manufacturing PPE1 kits and masks, and we also outsource them. The Prime Minister's initiative and strict compliance of the lockdown will help India come out of this sooner as compared to other countries.
Presently there is a vacuum in the downstream industry, with the shelves across retail stores going empty. This will encourage revival of production and stabilize markets. Secondly, there has been a rise in the requirement for medical textiles. We are looking at PPE1, PPE2 kits in large quantity, a few billion are required to meet the needs of doctors, nurses and common people. Both types of kits are being manufactured by RIL and many others. N-95 masks will be required more for the PPE2 kit, whereas PPE1 kit will need typical masks made of polypropylene and nonwoven fabric.
Various steps taken by the government will support industrial activity in a big way, RBI has also announced various steps like EMI deferment and has issued guidelines for incremental credit during the next quarter. This will help the industry survive for three months, gear up activity and tide over the immediate financial crunch.
The acute volatility in the oil prices is a pressing issue for the global textile industry. While, two months ago crude oil was around $50 a barrel, it touched levels of $ 20 a barrel recently. A drop of $30 a barrel has an impact of $240 in the downstream industry. The impact on NAPHTHA is around $240/ton; on paraxylene $250/ton; on PTA $150/ton; and on polyester by $120 to $130 /ton. Consequently, players face huge stock losses, within a month stocks in warehouses lost almost 30 to 40 per cent. Recently, President Trump has advised Saudi Arabia and Russia to come together and curtail production by 20 to 25 million barrels a day and bring stability to oil prices. This will help the industry and bring some stability. If oil prices go up to $30 to $35 dollars in the short run, it will reduce stock losses and revive business sentiment.
Many top textile and garment industry leaders have said they have to now think year 2020 never existed in account books. Comment.
One can take this as a threat or opportunity. Threat because we will see some onslaught from China in the coming days as they have an imbalance in their industry structure. They have continued production in the upstream, which needs lesser labour, while the downstream industry requiring more workforce is still slow to revive back.
This will create an imbalance where you have surplus in the upstream. This will give an opportunity to some Chinese manufacturers to export products into India. We need to protect the domestic industry and have been taking up this issue with the government of India to give reasonable protection. As you know the whole world is going down and China is increasing their production capacity. We have spoken to DCPC and different ministries to protect the domestic industry from this onslaught.
As far as demand and supply is concerned, export is not the only avenue open for Indian industry. Out of $140 billion textile only $30 to $35 billion is for exports the remaining $100 to $105 billion is for domestic industry. That will continue operating without much hurdle, once there is little stability. What the industry needs to learn is to survive in every environment and create agility within their system to adapt to the new environment. That is my advice to the industry. Adaptability to accept and move ahead with CHANGE!! I remember the story of WHO MOVED MY CHEESE!!
Given that we are highly dependent on China for the garment and textile industry, do you think this is an eye opener for our country not to depend only on one country?
This is the biggest lesson we have learnt. The industry depended on China purely for economic reasons and has ignored the likelihood of such events taking place. Not developing an alternative source became a big issue. The time has come where we as an industry need to look at alternative sourcing and maximize usage of our resources internally.
How can the government help the textile and garment industry tide over this crisis?
The time has come for the ministry to recommend some special incentives for garment exports. China has already increased the VAT rebate from 9 to 13 per cent. This allows the Chinese industry to become more economically viable, plus the depreciation of Yuan against the dollar from 6.9 to 7.1 allows local manufacturers to incentivize the drop in price and still make money. So, some incentives from the government as required, as duty drawbacks or enhancement of ROSL benefit for a temporary period of three to six months till the market tides over the dull market conditions. I am sure the government would come out with some incentive plans very soon.
What is your advice to the garment and textile industry?
My advice is that human life is more important so let us follow the lockdown without any hesitation. Once we start after April 15, incentivize workers to come back towork so that we can get the wheels moving. Concentrate on medical textiles which is the need of the hour and encash the opportunity while various parts of world are under lockdown and may need medical textiles. With reservations around Chinese sourcing, I think this is a great opportunity for us to enter the market vacated by China. Take it as an opportunity and try to spend little more money on the processing industry to meet the global standards.