G B Aras, Director Textile Engineering Group, ATE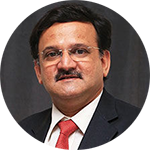 "One inherent advantage Indian textile industry has is that we are fully independent as far as the supply chain is concerned. Compared to other industries like pharmaceutical, electronics etc, their supply chain is dependent of global suppliers including China. So the industry that can really take advantage from global market with sustainable increase in exports is textile. If the government realizes this and gives proper support the industry will bounce back faster and increase its export share."
What challenges is the Indian textile and garments industry facing right now? How can they be overcome?
The textile industry was already under a financial stress for entire 2019 and the sudden event, known as the 'Black Swan Event' when suddenly things like this happens was not expected. There will be a long term impact on individual business and the country's economy. The industry was ailing and this came as a big blow. Most industries are not operating right now but whenever the lockdown ends and manufacturing starts, it will be very gradual for few reasons. One, there will be a lot of financial or liquidity cash crunch for textile makers. They will have to pay salaries and working capital will be required. Moreover some global buyers have cancelled their orders and held back orders which means whenever factories start they don't know what to produce. Therefore, it will be a challenge for people to start.
Secondly most migrant workers have gone back home and no one knows when they will be back or will if they will ever comeback; moving to full production will be a challenge. I also believe recovery will be slow as there will many after effects mainly because during this period, workers will also have to be paid their salaries. Ours is a low margin, high working capital industry, given this scenario people are starving for cash and the pandemic came at wrong time. It will break the backbone of our industry. Bouncing back will take long.
The government announced certain packages and incentives for the industry. What are your expectations from the government towards the textile industry to overcome this challenge?
The government has already announced the first fiscal stimulus but I feel a larger one is yet to come The first one was about 0.8 per cent of the GDP, and the expectation is the next one should be at least 2 per cent of the GDP, which means a good amount of money will come in support of both the industry and the economy. Obviously, a large part will come to the industry. Apart from that some companies have taken bank loan and in the current situation many will not be able to return them in time hence, there will be more defaulters. The banks and the financial institutions should be instructed by the government to give a moratorium or at least be softer because the textile industry is working on low margins and high working capital, so they will always be starving for cash. Repaying loans in this situation will be a serious issue. Secondly, besides fiscal stimulus a lot of claims have not yet been recovered by the industry from the government or incentive pertaining to MEIS or ROS , CTL and GST. Money is stuck with the government which is due to the industry, if this money is released some financial stress will be relieved.
Since the textile industry is the second biggest employer, with high export potential and high employment potential, no government can afford for this industry to collapse. Hence some support measures are required from the government.
There is a positive fall out of Covid-19 as in future, many global buyers will increase their buying from countries like India, shifting partly from China and India can be one of the beneficiaries if we play our cards properly. If we build proper infrastructure, proper capacities in textile and eco system a lot of orders can come. India can take advantage of this situation and try to increase its textile exports.
One inherent advantage Indian textile industry has is that we are fully independent as far as the supply chain is concerned. Compared to other industries like pharmaceutical, electronics etc, their supply chain is dependent of global suppliers including China. So the industry that can really take advantage from global market with sustainable increase in exports is textile. If the government realizes this and gives proper support the industry will bounce back faster and increase its export share.
Have we learnt a lesson not to depend on one sourcing country? Are we ready to produce volumes to become the next sourcing hub? Will we be able to match their pricing?
It is not only about pricing but also about quality. Costs in China had gone up in the last few years but their share in world trade has not fallen drastically. One of reason is quality. They have focused a lot on quality. So while cost is important quality is equally important. Unfortunately for India, two or three factors are really not in our favor right now. We are in the lower segment of the market and not in the high value segment where we compete with countries like Vietnam, Bangladesh so this is due to costing only. If we have to come up, then we have to play a quality game like China. We have made high quality goods for exporting.
I also think cost is a big problem in India therefore, after the pandemic there will be a shake-up in the industry. Companies that have strong sustainability in terms of finance, quality culture, good leadership, good management, will not only survive but also prosper in future and those that are weaker, particularly in the small segment will find it difficult to survive or even reopen. So, bigger players have a lot of responsibility now. They have the capabilities to build further capacities, give the best quality at an affordable rate because once you have mass production costs will come down.
Our problem is the industry is fragmented logistically. Cotton is grown in MP Gujarat and Central India but spinning mills are in Tamil Nadu so cotton is transported all the way. For weaving and knitting it goes to some other place and for finishing it goes to Ahmedabad, Surat and Mumbai, then it goes to garmenting centers. The whole value chain becomes very inefficient and costs are added at every stage. If industry's leaders realize the need to have big integrated units from start to finish goods don't have to travel and a lot of will reduce.
The Textile Ministry has to work closely with the industry, not only spinning, weaving, fabric forming, processing or garmenting and we have to build huge capacities. If we build huge capacities then we can effectively bring down the cost and fight competition with costs also. Moreover India makes limited products, mainly cotton based for exports. Now we have to diversify our basket to synthetic and blends and it has to be done fast because we are losing a lot of market because of this. Once we have synthetics and blends we will have a larger product basket.
India's growth engine is not garments it is mainly textiles that is home textiles etc. In home textile India's position is very strong, though there are temporary hiccups with exports to US and Europe but I am sure that they will regain market as they are well entrenched but in garments we are lacking and therefore Bangladesh, Vietnam, China are scoring.
Garment is highly labour oriented and costing is critical. There are still some states in India which have low cost if big garmenting hubs are put up there, we can manufacture at a low cost, comparable to that of Bangladesh. Everyone needs to change according to situations. We can't work in old ways then we will remain with 5 to 5.5 per cent of market share only. This is a great opportunity and India should put all its cards together to increase global market share.
Many industry stakeholders feel small players should move to making technical textiles like masks and PPEs. What is your take?
Indians have herd mentality and short term view of business. Now that this opportunity is coming everyone wants to jump into this. One thing is sure, demand for PPEs will continue for quite a long time because the fear of virus is not going go easily but we have limited capability right now. The mask that is actually recommended is a three layered one called SMS that is melt blown and spun burnt. Spun burnt India produces but melt blown there is only one manufacturer. So we have to see if we have capacities to produce these because somebody has to invest in this technology and in surgical gowns also there are people.
Everybody wants to jump in because people already active are facing difficulties due to high demand. Now those who are already in this business and have good experience of this trade can expand faster. Indeed India needs to invest in such things but every country will do the same and it should not happen that there is a work capacity for all this because world over everyone is enquiring about masks and gowns etc.
At present people are thinking of short term but we have to evaluate whether we have the requisite raw material, equipment available. The main raw material for WHO approved mask is melt blown and that is not available in India, we should first put up factories to produce the raw material and then move to producing masks.
It is a great opportunity but how long it will remain, how much competition will be there one does not know but players who are already into this have the opportunity to expand as they have business knowledge and are better placed than anybody else. The technical textile industry is getting support from the government and now there will be a new norm in hygiene. Now PPE (Personal Protection Equipment) will become compulsory for hygiene workers. Therefore, within our country there will be a huge demand for this. This is an opportunity to diversify business.
As for garments, sale will happen more through online now. Circular economy is also an important aspect that is picking up in Europe and the US where people don't want to consume more but repair and reuse the same thing. Trends will change and there will be less consumption.
How is ATE facing this challenge?
We have formed teams for different things and are in touch with all our employees to keep their morale high. We are fully operating from home. We have regular conference calls and reviews and our first plan is prepared for post-lockdown and how to survive because what will happen to the machinery is that investment in machinery will be the last thing which will be on the mind of customers when the lockdown opens. It will take a lot of time to buy machines and for companies like us to earn. So we have to be prepared for a longer lull for our segment of business.
Cash management is extremely important and we are focused on how to manage the cash and reserve. First and foremost we take care of our employees. We have a dashboard which is updated if anyone is sick. Then we support the infected person and his family. We are also training our employees online on digital marketing, using software as business tools. Employees are updating their manuals normally they don't get that much of spare time and to utilize this time to prepare a list as to how to restart the machines once we reopen as there are many processes involved for restarting machines which we will circulate to our customers.
As and when the lockdown opens we will have access the situation and have a separate blueprint to deal with it. But one thing is clear, the next two quarters will be challenging for the industry and for ATE also. We will first focus on business continuity. We also have to get back to customers to help them. We have asked our people to be in touch with customers and principals to enquire about their well-being and whereabouts regularly so that there is no discontinuation in business relationship.
What is your advice to the industry?
It is most important to keep positivity and be motivated. Read good books and articles because positivity is important. When we reopen also only people with a positive mindset will bounce back faster. We have to learn our lessons and can't be complacent. There will be extremely difficult situations for the next two quarters and the first priority for everybody should be to survive. We also have to see that there are less layoffs because that is the first fear people have in their minds which is not possible without the government's help. In the long term the industry is going to gain provided we change ourselves according to the situations and take advantage.