Festivals are an intrinsic part of Indian culture, are known to inspire the clothing choices of Indian consumers. Indians usually prefer to wear ethnic outfits during festivals. As per a Textile Value Chain report, these garments make individuals feel beautiful and stylish. They also inspire respect for old traditions and allow them to express love, respect and admiration for one other.
Evolution of comfortable ethic wear Festivals also play an important role in the evolution of fashion trends. Most fashion brands launch new collections during festivals as this is the time when most Indians dress in latest styles. Festivals like Baisakhi, Durga Puja, Diwali, Pongal, Eid among others offer consumers an opportunity to try new styles and trends. They allow them to experiment with their clothing choices.
Hence, the demand for ethnic clothes rises dramatically during festivals. This is a boom time for designers who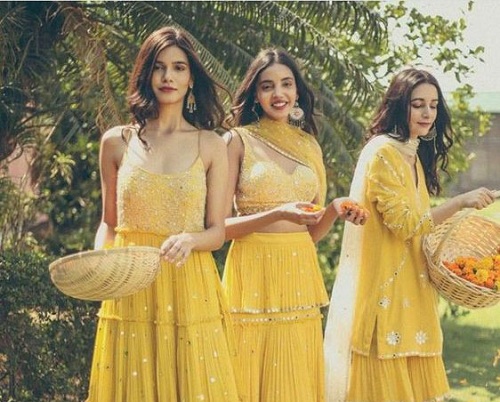 can experiment with new colors, jewelry, and ethnic options during festiviies. However, over the last few years, consumers have moved away from traditional outfits and opting for comfortable ethnic attire such as salwar kameez, kurtas, palazzos, dhoti pants, and sharara suits. Most of these outfits are available in-store and on online portals.
Festivals are a time when fashion designers can showcase their creativity through their collections. Most designers emphasize on making fashionable and comfortable clothes during this time. Their collections are launched in either fashion shows, exhibitions or shops set up during the festival season. Brands and designers also hold small events to promote latest collections in the weeks leading up to Diwali and Durga Puja. They introduce unique discount schemes and promotion offers to boost revenue. Festive fashion is thus an important revenue source for Indian designers. It not only reshapes customers' purchasing patterns but also their buying strategies and design concepts. .
An opportunity to invest in the market
Customers also look at festivals as an opportunity to invest in the booming textile market. This leads to higher sales for the fashion industry during this period. Internet also plays a significant in influencing consumers' buying patterns during festivals and drives them to make more purchases during this time, driving the growth of the ethnic wear market. Indian Fashion Market's June 2020 report forecasts, the ethnic wear market to grow by 7.8 per cent, to reach $30 billion in FY 2025 from $20.6 billion in FY 2020.