Competition in the $60 billion global jeans market is heating up with major denim brands chalking out robust expansion plans. While Levi Strauss & Co. is going for an Initial Public Offering (IPO) to raise about $587 million, VF Corp plans to hive-off Wrangler and Lee into new entity Kontoor Brands. Gap and Old Navy also plan to demerge into two separate public companies to increase their market share. With mounting pressure from the Wall Street to increase volumes, these initiatives will generate fresh funds for expansion.
Fresh funds to fuel expansion
The Levi's IPO, through which the company aims to raise up to $587 million, provides funds for retail, category and international expansion. The brand is on a roll right now and the infusion of cash will allow it to further expand its retail footprint.
The company plans to deepen its presence in emerging markets like China, India and Brazil, in order to drive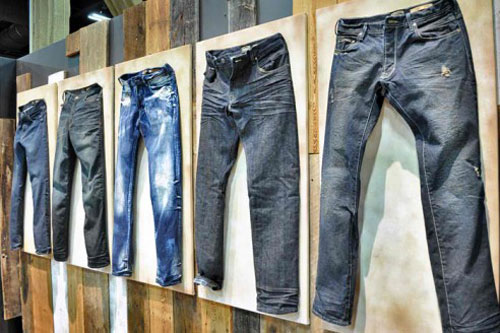 long-term growth. Its net revenue in top five markets including the United States, France, Germany, Mexico and the United Kingdom collectively increased to $3.5 billion in fiscal year 2018. The company plans to expand across these markets though a combination of new stores, expanded wholesale relationships and an increased e-commerce presence. It might even acquire some other business and strengthen further their position in the market place.
Mixed response for the VF Corp's Kontoor spinoff
The Kontoor spinoff has garnered a mixed response. Andreas Kurz, a former CEO at Hugo Boss USA, Diesel USA and 7 for All Mankind, doesn't think the spinoff is a good move for Wrangler and Lee because the brands had benefitted over the years from VF's structure. He feels, the company by separating from VF is creating additional costs in areas like sourcing, legal and overhead, thus making it less efficient.
Stefano Aldighieri, President of Another Design Studio, however believes the Kontoor spinoff will enable VF to create an independent powerhouse, which can reassert its dominant position in the jeans market. He believes it to be a great opportunity for VF to refresh the Wrangler brand and possibly expand it from its traditional Western wear market and to finally relaunch Lee and make it again the leading brand that it used to be.
Levi's to strengthen men's bottoms business
While Levi's plans to maintain its core brand positioning, it will also enhance other labels. The brand is actively focused on maintaining and strengthening its men's bottoms business, which will continue to be a key driver of its operating results."
The company will also invest in marketing and advertising to increase engagement with brands, including TV, digital and influencer marketing. In addition, it will target value-conscious consumers through the Signature by Levi Strauss & Co. and Denizen brands sold through wholesale accounts, growing its business with accounts such as Walmart and Target.
Diverification to maximise focus
The Gap-Old Navy breakup will enable each company to maximise focus and flexibility, align investments and incentives to meet its particular business needs and optimise cost structures for greater profitability. However, it will also reduce the diversification that the brand provides to overall entity. It is indeed difficult for brands to stay on course when their demanding shareholders expect short term profit at all times. How these brands balance this pressure and continue to grow, remains to be seen.