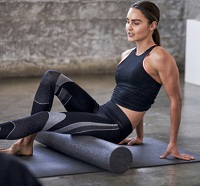 COVID-19 and its subsequent lockdowns have failed to dampen the spirits of fitness freaks. Even as gyms and fitness studios remained closed, people got their endorphin fix at home. Hence, sales of activewear remained strong, says a Drapers Online report. May sales figures of John Lewis indicate, during the lockdown, the retailer witnessed a massive surge in sale of gym kits and running shoes. Similarly, Marks & Spencer sold over 1,000 tops from its Good Move range on the first day its stores reopened post-lockdown.
New categories introduced
Retailers are gearing up to meet rising demand for activewear by introducing new fitness categories. London's Selfridges set up a bike shop at its Oxford Street flagship. Besides cycling accessories and clothing, the shop also sells push bikes and electric bikes.
Leather accessories brand Vida Vida recorded a huge surge in demand for cycling related products like bike saddles and bike coffee cup holder. From April
to June, the brand recorded 800 per cent increase in sale of saddle bags. The brand plans to extend all its leisure activities ranges in future.
Fitness brands and digital startups collaborate
Consumers are realizing the importance of exercise in boosting their immunity against the virus, says Nick Paulson, Founder, Ellis which saw a big surge in demand for home fitness products including yoga mats and resistance bands, at the start of lockdown. Sales at UK's digital retailer The Sports Edit, which stocks brands like Nike, Adidas and Girlfriend Collective, rocketed by 200 per cent-300 per cent year on year during lockdown. Paulson believes, there will be greater collaboration between brands and digital fitness providers. Hence, his brand is looking to acquire home fitness start-up Mirror.
Brand Castore aims to invest in its European supply chain to ship products quickly. Thomas Beahon, Co-Founder noted a huge surge in sale of essential products such as training tops or running T-shirts since the lockdown
Quality and sustainability in focus
Consumers are looking for on-trend activewear that can easily be worn with their day-to-day wardrobe, points out Danielle King, Founder, Kiht Collective. Sustainability is also becoming a big focus as the pandemic and the subsequent lockdown made them politically and environmentally aware. Customers are also becoming more aware about their investments. They are investing in high quality pieces made by local and ethical brands. There is also growing focus on sustainable garments that express people's values and ethics.
To benefit from the growing demand for fitness related apparels, brands and retailers need to add more cycling and home fitness products to their portfolio. Consumers expect activewear to reflect their personal style and help them make a fashion statement both in the gym and outside.