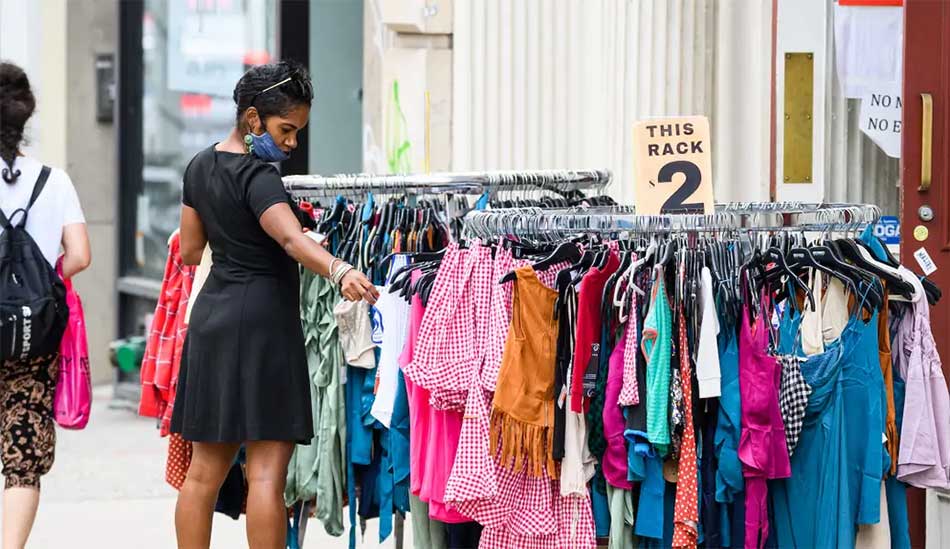 Refreshing wardrobes has now become more expensive for consumers with apparel prices rising 0.8 per cent in June compared to May and 5.2 per cent year over year, according to the US Bureau of Labor Statistics' consumer price index.
In recent times, many apparel retailers including Target, Gap and Walmart announced markdown plans to rid themselves of the unsold inventory. Yet, apparel prices continue to rise, boosting jobs in the labor market.
Apparel market growth is being driven by consumers return to normalcy, says Kristen Classi-Zummo, Analyst-Fashion Apparel, NPD Group. Retailers' revenues including Levi Strauss & Co, grew 15 per cent Y-o-Y during the quarter ended May 29. However, revenues of value brands that drive a small amount of the company's overall sales and are sold by Walmart, Target and Amazon, declined in mid-single-digit from a year ago, says Chip Bergh, CEO.
Walmart reported mixed results during the first quarter of this fiscal. On one hand, the retailer had to mark down some of its clothing items as shoppers curbed discretionary spending; on the other, it could not match demand for apparel from more fashionable and high-brands such as sundresses and tops from Scoop, avers Charles Redfiled, Chief-Merchandising. US apparel sales grew 5 per cent Y-o-U from January to May and 13 per cent over the same period in 2019, affirms Classi-Zummo
Demand for formal wear surges
Demand for formal attire has grown with more Americans are going for weddings or heading to offices, she adds. A few consumers are also buying clothing items not for sale, says Kristen Classi-Zummo. For NPD Group, sales of women's dresses surged 42 per cent Y-o-Y from January through May. From 2019-levels, sales the growth was 14 per cent.
Sales promotions to drive down inventory
Change in consumers' demands impacted retailers who stocked wrong apparel items for example, GAP had stocked fleece hoodies and active clothes. The inventory levels of Abercrombie & Fitch and American Eagle Outfitters also rose 45 per cent and 46 per cent respectively from a year ago as few items did not sell and easing of supply chain delays led to piling of inventory. To rid themselves of unsold inventory, retailers Walmart and Target launched aggressive sales promotion initiatives. Apparel sales declined 8 per cent in volume against the same year-ago period, as per figures from NPD Group. This could pull down sales over time, analyst warn. Already, 35 per cent consumers are either buying or plan to buy less apparel, as per a survey by equity research firm Jefferies in June. Consumers earning less than $100,000 plan to cut back apparel spending.
Polarization in income groups
Contrary to last year, retailers have had to pass on more of their costs, including increased raw material or transport costs, to consumers. This has led to an increase in the prices of apparel. The growth in apparel prices is also being driven by higher-income shoppers who still have the means to pay for more expensive brands and clothing items, adds Classi-Zummo. For instance, swimwear priced at or above $100 is witnessing the biggest rise in demand.
This is polarizing consumers according to their income groups. While consumers with higher incomes continue to drive apparel sales, those with lower-income are deferring purchases, Classi-Zummo confirms.