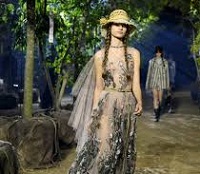 Conforming to the old saying, everything happens for the better, the COVID-19 pandemic has sparked an interest amongst luxury consumers for products focusing on greater craftsmanship, points out Kayla Marci, Market Analyst, Edited. Brands offering conscious and ethical products are gaining more popularity for the value they offer compared to traditional luxury brands, says a Womens Wear Daily (WWD) report.
Growing emphasis on quality
The industry is moving towards slow fashion movement that emphasizes on quality and durability of the product. It aims to minimize waste of all kinds and maximize social impact. The movement advises brands to put a brake on production that does not conform to demand.
One of the leaders of slow fashion movement is brand Agua by designer Agua Bendita. Founded in 2018, the luxury ready-to-wear brand plans to slow
down its fashion cycle and launch only two collections every year. The brand plans to work at a more organic pace to reduce its impact on the environment. Its aim is to have more time to boost creativity.
A new beginning
As per Lyst's 2020 Conscious Fashion Report , over the last 12 months slow fashion has generated more than 90 million social impressions which suggests the beginning of a shift in consumers' shopping behaviors. For example, Sika, a brand founded by Ghanaian designer Phyllis Taylor which makes handmade and made to order garments in Ghana. Taylor started by producing a handful of garments at a time before ordering more accordingly. She later moved to an online-only model and only made garments on order. This helped achieve zero waste besides giving her space to customize garments as per demand.
The uptick in Sika's orders prompted the brand to alert customers about the delay in payments. However, customers are willing to wait for their orders. The brand has gained 35,000 followers on Instagram which proves, though slow fashion may take time to work, artisan luxury brands will lead this change.