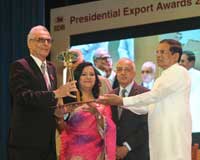 Brandix has been named Sri Lanka's top exporter of the year. Besides the Sri Lankan Exporter of the Year award, Brandix received the award for highest employment provider in the export industry; highest net foreign exchange earner in the export industry; the sectoral award for highest foreign exchange earner in the apparel sector and the award for excellence in sustainable development.
Brandix leads a group of highly respected export brands in apparel, IT, tea, manufacturing, processedfoods, services and printing. The pioneer of the concept of total solutions in Sri Lanka's apparel sector, and a preferred supplier to top retail brands in the US and Europe, Brandix is also a benchmark and international award winner for eco-friendly manufacture and commitment to environmental best practice.
In India, Brandix has set up a textile park in Andhra Pradesh. The workforce comprises mostly women from rural areas, with a schooling ranging between seventh and tenth grades. They are trained to manufacture products for international brands and labels.
The park produces over two lakh pieces of intimate apparel a day. The unique, integrated apparel supply chain city is spread across 1,000 acres and brings alive an avant garde fiber to store concept. It brings together world class apparel chain partners from the design table to consumer brands in flawless integration. This includes spinning, fabric manufacturing, apparel production, accessories, finishing to warehousing and logistics.