Even in an ultra-tough market, the digital world is helping fashion sector connect with customers, says Mark Sinnock, Chief Strategy Officer, Havas Group. Brands are introducing consumer engagement strategies to attract buyers to shop with them. They are also encouraging industry peers to work with Black-owned business. As a report by Vogue Business notes, they recently passed the 15 per cent Pledge to encourage US retailers to increase their percentage of Black partners.
Consumers too are looking for brands with value, adds Sinnock. Though a positive sign, brands should abstain from using this as marketing gimmick and thread carefully, he advises. Social media offers such brands a platform to voice their opinions with tools such as Tiktok, making them a part of ongoing dialogue with consumers, adds Brian Mandler, Co-Founder, The Network Effect, a digital agency focused on short-form content. Fashion marketers can also benefit from short-form video applications that help engage younger audiences.
Exploring interactive marketing trends
As per fashion marketers, future is about exploring interactive marketing opportunities. For instance, in September last year, Burberry partnered Twitch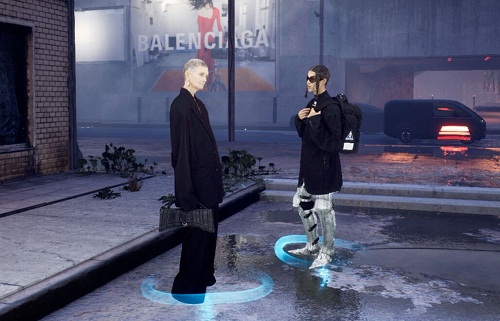 to enable viewers of Spring/Summer 2021 show to interact in chat rooms. Prada also hosted a virtual show to encourage its audience participation. Its focus on China also paid off as the brand staged screenings of virtual show in Shanghai, besides live streaming on its Weibo and Douyin accounts.
Another trend luxury brands are exploring is gaming. Balenciaga launched its A/W '21 collection last December as a video game. Titled Afterworld: The Age of Tomorrow, the game invites users to explore various zones and discover new designs by creative director Demna Gvasalia. Luxury brands have also launched the avatar version of Donatella Versace at Complexland virtual festival Complexland while Pangaia has created a virtual gamified experience on top of a glacier to promote the launch of its new down alternative, Flwrdwn.
There are likely to be more such collaborations in 2021 as the focus on shared experiences including virtual trade shows, exclusive in-game drops and virtual try-on hauls will increase. As per Gina Chung Lee, Vice-President-Marketing and Creative, Gen G, brands will customize campaigns with the most receptive and valuable messages.
Fashion-sports relations to evolve
Focus on real-life sports stars is likely to boost demand for wellness-themed products in 2021, encouraging luxury brands to collaborate with them. In January, Louis Vuitton signed a multi-year partnership deal with NBA to launch an annual capsule collection of apparel and accessories designed by Virgil Abloh, artistic director of menswear.
Luxury brands are competing with well-funded sportswear giants like Nike to rope in the biggest names in the industry, says John Collard, Chief Executive Officer, Sports Impact. Such deals help brands connect with buyers of their most accessible products like perfumes and accessories. Sports shoes will also be largest footwear category in the US this year, confirms NPD Group. Year 2021 will be big for fashion and sports, opines Collard of Sports Impact. The relationship between fashion and sports will evolve as brands will leverage sporting influencers to reach target audience.