Though, Bangladesh has become the second-largest garment exporter worldwide by grabbing 6.4 per cent market share, the country is soon likely to be overtaken by Vietnam, whose exports have been rising rapidly and the country expects its apparel shipments to cross $40 billion by the end of the year. However, to achieve this, Vietnam needs to maintain export growth at 11-12 per cent for the rest of the year.
Why Bangladesh slowed down
During the first eight months of the current fiscal, Bangladesh exported garment worth $21.84billion. However, as per Export Promotion Bureau figures, exports declined by 5.53 per cent year-on-year. Revenues too declined by 13.45 per cent during these eight months to $25.24 billion. Between July and February, the country recorded $10.89 billion from its shipment of knitwear products and $10.94billion from the woven product shipments.
Exports of knitwear and woven products declined 5.17 per cent and 5.88 per cent respectively during the year. If the country's shipments do not rise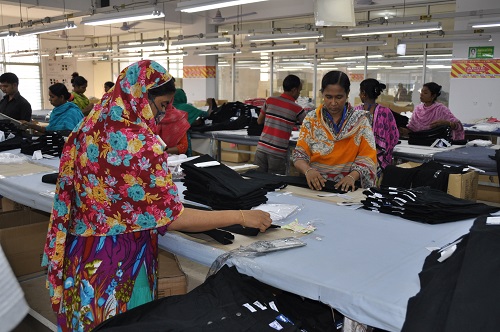 abnormally, Bangladesh might not achieve its target of exporting $38.20billion worth of garment by the end of this fiscal. The country's garment exports have been declining due to the closure of nearly 200 small garment factories over the last few years. It also reflects falling competitiveness of RMG industry whose exports dipped by 7.74 per cent during July-November of FY2019-20.
Some major reasons behind the slowdown are: policy incentives by competitor countries which enable them to get more business by lowering prices; increase in production cost fueled by a minimum wage increase in December last year; poor efficiency and relatively higher cost of doing business and over concentration of the industry to a few product items and over-concentration of markets.
Vietnam takes the lead
In contrast, Vietnam has been performing strongly as it recently signed the landmark Free Trade Agreement (FTA) with the EU, which allows them to enjoy zero-duty benefit to the largest trading bloc of the world. Also, geographically, Vietnam is closer to the EU and other Western countries. This allows garment manufacturers to ship goods with lower lead time. They can ship their goods with airliners at lower costs. Another big advantage is its abundant Chinese investment and higher factory productivity. Many Chinese investors have factories in Vietnam in addition to those they run in Mainland China. As a result, the benefit of product development in China also trickles down to Vietnam. This makes the job of sourcing by buyers easier in Vietnam. This is the main reason why Vietnam is doing so well in RMG exports in recent times.
Latest 'Ease of Doing Business' shows, Vietnam is a better choice for investment than Bangladesh as the country is concentrating on product diversification. In contrast, Bangladesh still manufactures basic apparels. Almost 75 per cent of its shipments consist of T-shirts, trousers, sweaters, formal shirts and jackets though the country is slowly graduating to value-added and high-end garment items for upscale customers in the Western world.
Bangladesh also lags in the production of technical and smart clothing items, which prevents it from tapping the global market for hospital clothing, school uniforms and armed forces, worth billions of dollars.
Another advantage for Vietnam is its government's support to the entrepreneurs through food subsidy to workers, social benefits, medical benefits and housing assistance. Also, Vietnamese workers are known to be more efficient than Bangladeshi workers as they have an improved supply of gas and electricity, working environment and infrastructures.