Jersey manufacturer Tintex has established itself as a global leader in smart innovation. The commitment to support brands in creating responsible collections is interwoven with its motto `Naturally Advanced'. At Première Vision the company presented its S/S 2021 collection and a new strategic approach to make the world a better place, a garment at a time. "That's why we decided to update our statement-motto in Naturally Advanced Evolution: a promise and an invitation to work together to develop further collections combining an environment-driven approach with cutting-edge technology. Textile producers and fashion brands should develop their partnership in a much more collaborative way," said Ricardo Silva, Head of Operations of Tintex.
In a move towards its partners, the company has reorganised its products collection into distinct categories and further evolved its production process in order to guarantee the highest quality and performance of its fabrics and, at the same time, to become more competitive and to allow its clients to orientate better and easily find the most suitable and practical solution.
Tintex presents new collaborations with the premium brands Hanro, J.Lindeberg and Outlier for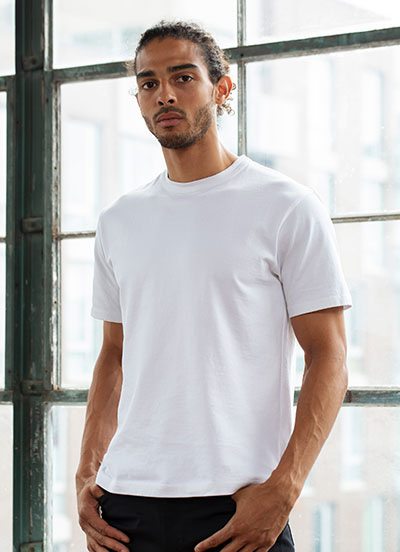 sustainable smart innovation. The collaborations born from this vision involve:
• Hanro, with the "Balance Shirt" is made of 100% Tencel fabric by Tintex enriched by the premium Naturally Clean finishing and thereby the basic shirt for everyday wear – it's high-quality, functional and has a relaxed, comfortable fit. The understated "Balance Shirt" by Hanro puts the focus on the basic, quality lyocell fabric, which ensures a soft drape and a subtle sheen.
• J.Lindeberg offers versatile products designed for an active life always finding new ways of doing things; new materials, new design and new technologies. Focus is on details, fit and execution. The brand selects smart cotton knits by Tintex in pure versions or in blend with Tencel or recycled polyester.
• OUTLIER makes hardcore, performance-driven clothing that empowers the wearer to do more while owning less. The brand selected 100% smart cotton options by Tintex to develop an experimental, box cut, heavyweight t-shirt unlike any other. At 8oz it's very heavy for a tee, but thick cotton yarns knit at a low-gauge give the fabric a stand-off-the-body structure and hidden openness for wide ranging comfort. The t-shirt is enriched by a GOTS certified 100% Organic cotton rib for the neck.