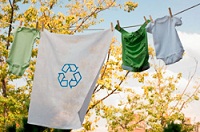 The Circular Fibres Initiative, launched at the Copenhagen Fashion Summit, aims at bringing together leading businesses, NGOs, philanthropic organisations and public bodies to create a vision for a new global textiles system that will replace the linear, take-make-dispose model dominating the industry, starting with clothing companies. Nike and H&M are the first corporate partners to support the initiative, led by circular economy think tank Ellen MacArthur Foundation, with participation from the C&A Foundation, the Danish Fashion Institute, Fashion for Good, Cradle to Cradle and Mistra Future Fashion.
The effort has been taken on the aegis of the New Plastics Economy (NPEC) Initiative, launched in 2016, which brought together nearly 40 companies, including Coca-Cola, Danone and P&G, to increase plastics recycling to 70 per cent per year. The NPEC has raised $10 million, points out Ellen MacArthur Foundation spokesperson. MacArther says from this experience, they identified that a key success factor has been a precompetitive, collaborative mindset amongst participants.
What the initiative is slated to do?
The total annual global consumption of clothing amounted to $1.4 trillion per year, or about 91 billion garments sold, in 2013. Across Europe and North America, 15 million tonne annually of clothing is discarded and ends up in landfills. The initiative will map how textiles flow around the global economy and its externalities. The report is due to be published in autumn. Raising end-of-use textile collection rates in North America and Europe to about 65 per cent would save the industry about $71 billion.
The Global Fashion Agenda and the Boston Consulting Group (BCG) recently published a report that scored the fashion industry a low 32 out of 100 points for sustainability. As apparel consumption is projected to rise by 63 per cent in 2030, the need to address its footprint is all the more critical. The report addressed fashion's systemic issues, including the volume of water consumed by the industry, which today is nearly 79 billion metres (enough to fill nearly 32 million Olympic-sized swimming pools) and will double by 2030. Its carbon dioxide emissions are projected to increase to nearly 2.8 billion ton per year by 2030 — the year that fashion waste will top off at 148 million ton.
Circular economy for textile
Clothing can be repurposed in several ways: It can be collected for reuse domestically or abroad; reused for cleaning rags (wipers); shredded for new yarn; or turned into stuffing for furniture and insulation for cars and homes. By raising end-of-use textile collection rates in North America and Europe to about 65 per cent, the industry would save about $71 billion, according to the Ellen MacArthur Foundation report.
A circular economy for textiles would be good for the environment. The EPA estimates recycling the clothes Americans currently toss would be equivalent to taking the emissions 1.2 million cars off the road (which will inflate to 230 million cars by 2030, according to the Global Fashion Agenda and BCG). The Ellen MacArthur Foundation suggested that nutrients embodied in biological materials can be returned to the food and farming systems to regenerate soil. And recovering nutrients in cotton lint from textile wastewater or end-of-use fabrics uses just 0.5 per cent of current chemical fertiliser consumption (cotton currently accounts for 24 per cent and 11 per cent of global sales of insecticides, respectively).
Dame Ellen MacArthur says the initiative is bringing various stakeholders in the textile industry together to catalyse change by creating an ambitious, fact-based vision for a new global textiles system, underpinned by circular economy principles, that has economic, environmental and social benefits.