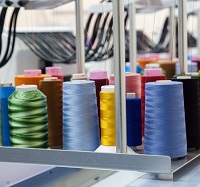 The clarion call of 'Atmanirbhar Bharat' (self reliant India ) given by Prime Minister Narendra Modi does not just imply import substitution but also capacity building to dominate the global market. Pursuing such a policy can help Indian manufacturers boost manufacturing and export capacities. However, certain sectors like textiles are already self-reliant and can play a larger role in global market with a little boost from the government.
Stagnating exports hampering India's textile growth
India is the largest and second-largest producer of cotton and man-made fibers — polyester and viscose respectively. Over the years, the country has established a large spinning, weaving and apparel making capacity to convert these raw materials into end-products. India also has abundant labor supply and a strong domestic market. However, despite these advantages, the country's textile exports remained at the $40-billion level for the last few years with share in overall exports declining from 15 per cent in FY16 to 12 per cent FY 19.
In contrast, exports from Bangladesh, Vietnam and Cambodia have increased substantially. Bangladesh exports rose from $26.60 billion in 2015 to $33 billion in 2019 while
6Vietnam's increased exponentially to make it the third largest apparel exporter in the world. On the other hand, Indian apparel exports declined from $18 billion in FY17 to $17 billion in FY19.
Roadblocks to growth
Some reasons for the stagnation in Indian textile exports are: low scale of operations, preference for cotton over other fibers and lack of trade agreements with other countries.
Low scale of operations: On average, Indian apparel units have around 100 machines each. In contrast, Bangladesh factories have at least 500 machines each. Additionally, Bangladesh enjoys tariff benefits being a 'least developed country'. To overcome these disadvantages, India needs to set up mega apparel parks close to ports with 'plug and play' facilities and common infrastructure for effluent treatment, etc.
Preference for cotton over other fibers: Cotton has always been one of the favorite crops among Indian farmers. Nearly 5.8 million farmers are engaged in cotton cultivation in India. Also, GST on cotton is uniform at 5 per cent for fiber, yarn and fabric. This is not the case with man-made fibers (MMF), which are taxed at 18 per cent for fiber, 12 per cent for yarn and 5 per cent for fabric. This inverted tax structure makes MMF textiles costly. Hence, MMF account for just $6 billion of the $39-billion textile exports. However, to emerge as serious player in the world fiber market, India needs to adopt an impartial tax policy besides upgrading technical skills in the industry.
Lack of trade agreements: India can gain duty free access to large textile markets such as the EU, Australia and the UK by signing duty free agreements with them. These agreements can also help Indian textile players counter Bangladesh which, as a 'least developed nation', gets duty-free access. Hence, the Indian government should sign appropriate FTAs with these countries. This can lead to the creation of 0.15 million jobs in the textile sector.
India's dream to be Atmanirbhar cannot be possible until and unless the government turns its focus to sectors that are already self-reliant and capable of taking the country on the path of growth.