The Mumbai unit of the Textile Association (India) organised a One-day seminar on "Opportunities for Textile Industry in Challenging Scenario" on February 29, 2020 at Hotel fortune Park Galaxy, Vapi (Gujarat). The seminar was inaugurated by Rajnikant S. Bachkaniwala, Chairman, Palod Himson Machines.
Rajnikant S. Bachkaniwala, Chairman, Palod Himson Machines delivered the inaugural address. "Where there is a crisis there is an opportunity. The Global Corona virus problem in China provides the Indian textile industry with an opportunity that we should not miss," he said.
GV Aras, Director, Textile Engineering Group, ATE Enterprises delivered the key note address. According to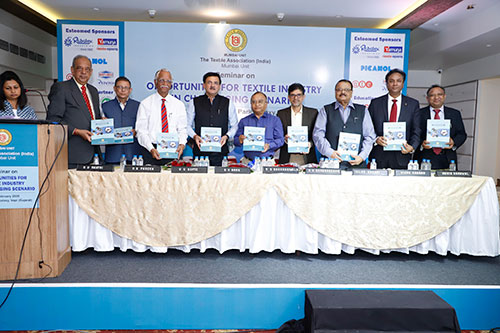 him, though the textile industry offers many opportunities, industry leaders have not been able to grab them as we don't have the capacity for bulk manufacturing. "Lack of logistics and disintegrated activities in the textile industry is increasing the cost of products in the industry," he said. He further viewed that the ongoing coronavirus epidemic in China is impacting production in the country, which gives Indian industry multiple opportunities to increase productivity and and capture the international market.
A. A. Bambardekar, Works Director, Raymond (Textile Division Vapi), urged industry leaders to adopt new technologies to reduce their production costs. He also urged young students to enter the textile industry as they can help it grow through their innovative ideas.
The Textile Association (India), Mumbai Unit felicitated Madhubhai Mangukia, Chairman & Managing Director, Yamuna Machine Works with "The Lifetime Achievement Award" and Haresh Panchal, Managing Director, Rabatex Industries with "The Industrial Excellence Award" for their outstanding contribution in the field of textile industry.
The seminar ended with a panel discussion on the topic 'Developments in Textile Industry to meet Emerging Market Trends. Moderated by Rajiv Ranjan, ED & CEO of Hindoostan Mills, the discussion focused on radical thoughts from the textile industry that would help the textile industry.