As major international brands canceled their orders due to the COVID-19 outbreak, millions of workers employed in Asian garment factories were left without a job. Many were laid-off without severance pay or outstanding pay which shows that brands do not respect their workers, points out Akter, Founder, Awaj Foundation, a labor rights organization at a recent forum organized by Cornell University's ILR School. Bangladesh, which employs over four million workers, pays them a meager $95 a month. The country lost over $3.18 billion worth of garment orders affecting nearly 2.28 million workers, says the BGMEA.
Brands reiterate commitment to workers
Hence, Akter urged US and EU brands to take responsibility for their orders and workers' welfare. On their part, brands reiterated their commitment to long-term business in Bangladesh. For instance, Adidas revealed it is working in close collaboration with partners to shift some orders to the second half of the year. The company has initiated a program to increase the health and safety requirements for suppliers by providing additional protective masks, hand sanitizers, health checks, and more intensive cleaning measures. It is also promoting the exchange of information among partners to leverage the experience gained in China.
Like Bangladesh, over 130,000 garment workers in Cambodia too lost their jobs as about 250 factories suspended operations. The country employees around 8,00,000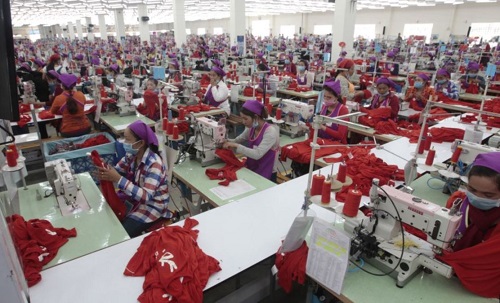 workers in its factories which produce around 80 per cent of Cambodia's garment exports, revealed a joint association of Garment Manufacturers Association in Cambodia (GMAC), Cambodia Footwear Association, and the European Chamber of Commerce in Cambodia. Ken Loo, Secretary-General, GMAC, estimates around 300,000 workers will lose their jobs in future.
The rapid spread of COVID-19 has made garment workers across the world extremely vulnerable. To alleviate the effects of this pandemic, H&M recently joined a Call to Action in support of garment workers. The call urges brands to protect workers' income, health, and employment by paying for manufactured goods and goods in production.
Focus on building long-term partnerships
Though neither suppliers nor big brands were prepared for the pandemic of this magnitude, experts are urging them to institute safety measures for workers. Sarosh Kuruvilla, Professor, Industrial Relations at Cornell University's ILR School has urged suppliers to institute an unemployment insurance scheme for these workers.
Brands should also take this opportunity to scout talent from other industries that have a better knowledge of building strategic partnerships within their supply chains, feels David Hayer, Senior Vice President, Global Sustainability at Gap Inc. Instead of focusing only on seasonal orders, they should build long-term partnerships from production to retailer levels, he emphasizes.