The outbreak of novel coronavirus triggers run on medical and health textiles, driving the production of non-woven at full throttle across the country, particularly in Xiantao city, Hubei Province, best known as China Famous City for Non-Woven, a city home to over a hundred of non-woven manufacturing companies.
According to the city government, there are 137 companies producing protective gear, of which
113 companies are specialized in medical and health textiles. As of February 9, 83 of them have resumed production in Spring Festival holidays to respond to demand urgency at a time when the whole country is mobilized to fight coronavirus. Among these 83 working manufacturers, 10 companies work on medical and health garment, 28 on non-woven, 45 for face masks and protective clothing, leaving 30 companies yet to go into production after in-situ qualification survey and accreditation by expert procedures.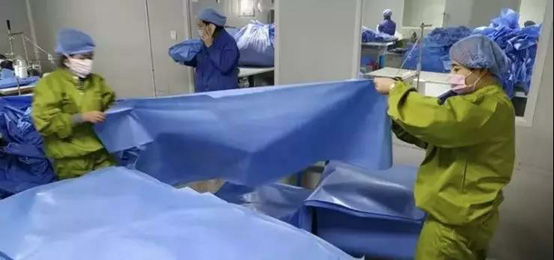 To stand up to the public health emergency, local government plays a very important role in marshalling resources through organizational efficiency and responsible leadership in stepped-up efforts to quickly resume production in time of need. The update on February 8th shows that the daily output of protective clothing has reached 30,000 pieces, a target set by provincial government, temporarily easing the shortage of supply.
Furthermore, the city government of Xiantao issued [Regulation on Production Order for Non-Woven Manufacturers] to make sure that the existing protective textiles companies measure up to the industrial, social and environmental standards in all perspectives on corporate-compliant basis, particularly in terms of the licenses for hospital appliances production and the registration certificate for medical and health supplies, enabling health-purposed products themselves to be healthy in a quality-centered supply chain.
Contributed by Mr. ZHAO Hong
He is working for CHINA TEXTILE magazine as Editor-in-Chief in addition to being involved in a plethora of activities for the textile industry. He has worked for the Engineering Institute of Ministry of Textile Industry, and for China National Textile Council and continues to serve the industry in the capacity of Deputy Director of China Textile International Exchange Centre, V. President of China Knitting Industry Association, V. President of China Textile Magazine and its Editor-in-Chief for the English Version, Deputy Director of News Centre of China National Textile and Apparel Council (CNTAC), Deputy Director of International Trade Office, CNTAC, Deputy Director of China Textile Economic Research Centre. He was also elected once ACT Chair of Private Sector Consulting Committee of International Textile and Clothing Bureau (ITCB)