Munich Fabric Start was held August 30, 2022, to September 1, 2022.
The positive, motivated and ambitious mood of the trade show with inspiring new products, innovative contents and future-oriented themes was transferred to the industry: More than ever, especially in addition to intensive discussions, especially about raw material and energy prices, buyers, product managers and designers in Munich showed a desire for something new.
The event confirmed its role as one of the most important European fabric shows and leading business platforms for the fashion and denim industry. Munich Fabric Start not only celebrated the comeback of Munich Fabric Start and the international denim trade show Blue Zone after the formats of the past seasons had been adapted for Covid reasons but also its growth with the biggest event in its history. In total, the approximately 900 exhibitors from 40 countries showed around 1,500 collections on a total exhibition area of 45,000 square meters, around 2,500 square meters more than at the last pre-Covid edition in September 2019.
Visitors number lower than pre-covid, but quality convinces exhibitors
Within the general trend in the trade show and event sector, Munich Fabric Start also recorded a corresponding decline in the number of visitors compared to pre-Covid times. With 14,200 visitors, the number was down, which was to be expected considering the continuing travel restrictions and reservations, especially transcontinental, as well as the structural changes to be observed in the fashion industry. Nevertheless, the quality of the buyers, designers and product managers present was convincing, which was also confirmed by the exhibitors. Mostly companies from Germany, Austria and Switzerland came to Munich. The Netherlands remained an important visitor group with companies such as Calvin Klein, Claudia Sträter, Expresso Fashion and Scotch & Soda. Also strongly represented with their teams were the Scandinavian region with visitors such as the Bestseller Group as well as brands from France and Italy, including Calzedonia, Diesel, Giorgio Armani or Lacoste.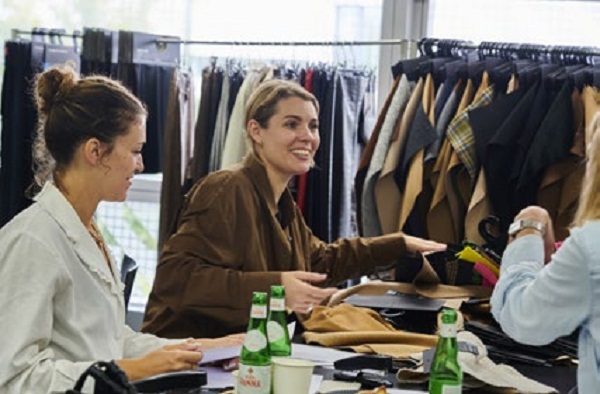 Design Studios 60 and The Source hailed as unique Show-in-Show concepts
The organisers further expanded their successful show-in-show concept. In the Design Studios 60 leading international fabric designers, print and pattern developers came together. Keyhouse and Catalyser brought together technological, sustainable and aesthetic innovation drivers at the intersection of fashion and denim. The completely new format The Source was fully booked at its premiere with around 65 exhibitors and provided answers to the increasing demand for manufacturing and nearshoring.
In Germany, Europe's most price-sensitive market, almost every discussion at the show was about finding approaches to maintaining price points on the one hand and not sacrificing quality on the other – a balancing act in times of rising energy prices.
Innovations in all areas
Visitors encountered innovations in all areas of Munich Fabric Start and across all steps of the value chain. Many innovative raw materials were on show that were either recycled, recyclable or biodegradable – for example, from Wastea, Piñatex and Incalpaca. The many examples of highly efficient innovations to be discovered ranged from waterless dyeing to oxygen-based finishing to AI-driven processes as seen at Muze, Wiser and Tejidos Royos. In addition, fully digital dressing and design options played an increasingly important role.