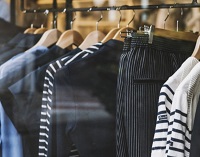 As countries across the world battle with the ongoing COVID-19 pandemic, the idea of a relying on a single market far from home is being seen by many as an untenable risk. Though the global fashion industry spent most of the past decade trying to break away from its dependence on Chinese manufacturing, little progress was made and China remains the most enticing manufacturing destination with an equally attractive supply chain.
China dominance continues
Even though garment manufacturing has shifted to many other countries around the world, fashion hasn't been able to divert its raw material sourcing, trims, zippers and more from China, even as labour prices in the country continue to rise and US-China tariff war continue to bite. A recent report by the Business of Fashion estimates approximately 60 per cent of the world's fashion is still produced in China as most countries still depend on components from China. India too imports its silk from China.
Disrupted supply chains a bug bear
This over dependence on China was particularly highlighted when the country first experienced the outbreak of the virus. The pandemic caused many of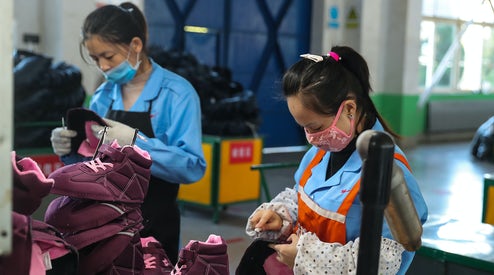 its factories to close besides causing crucial cogs in the fashion supply chain to grind to a halt.
Today, as no one is shielded from the pandemic, many fashion brands moved to lucrative markets such as Bangladesh and Vietnam. However, they soon realised that the supply in these countries was also disrupted. As BGMEA points out, though in many cases, supply-side disruption matters less than the demand disruption caused by retail closures which led to many major fashion brands cancelling orders amounting to around $6 billion in Bangladesh alone.
Even as production is halted in most places around the world, China is open for business and producing the orders that have not been cancelled. However, manufacturers here face an uncertain future as business from overseas becomes scarcer, mitigated only somewhat by demand from growing domestic fashion brands looking to move their way up the value chain.
COVID-19 pandemic highlighted the world's dependence on China for vital supply chain links, especially for medicines and personal protective equipment, as dozens of countries concurrently grapple for both. As a result, there is growing pressure for the pharma industry in Europe and North America.
Shifting sourcing to other countries
Like the pharmaceutical, fashion companies, especially those in America are likely to feel the pressure to "decouple" from China in a year which promises to be heavy on anti-China rhetoric. Hence, fashion brands need to start planning for the post-pandemic phase of business now. As Gerhard Flatz, Managing Director, KTC, a high-end performance wear specialist says brands need to create a micro-environment by shifting their sourcing to Southeast Asia and other countries.
Yossi Nasser, Chief Executive of leading intimates manufacturing supplier, advises brands to have a diversified supply chain as this would enable them to scale up one production source and decentralise the other.
Another way for brands could be to focus on rebuilding their business, says Melanie DiSalvo, Founder of Virtue + Vice, sustainable supply chain consultancy, previously product developer for companies including Walmart, Target and Levi's. Supply chain diversification is a long-term goal that brands shouldn't venture into right now.
Instead, they should focus on consolidating supply chain by partnering with vertical operations across different materials or product categories, opines the president of Bombyx, a manufacturer of silk fabrics. According to him, this will provide brands with an opportunity to be more flexible in their own set up because they control more of their supply chain, and have more room to spread out their production and finances.
Focus on micro orders
However, Anson Zhou, a freelance consultant in sourcing and supply chain management for clients including Macy's, JC Penney believes the best strategy for brands could be to take up small orders first and see the reaction and make a quick decision on a re-order. For this, they need quicker speed in their supply chain management like China.