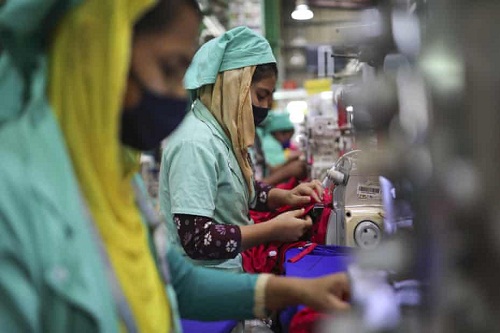 Growing from $3 million to more than $4 billion over time, Bangladesh sweater exports have expanded with the country gaining more access to international markets. Bangladesh currently has 400 automated sweater factories that have replaced its manual hand knitting devices with automated Jacquard machines. As per a Business Standard report, these factories have recorded over a 27 per cent growth in their sweaters in the past six year. Bangladesh Garment Manufacturers and Exporters Association (BGMEA) estimates, growth in this area is relatively higher compared to other items.
Sweater makers in Bangladesh are eying new investments and expansions in 2021 as factories have shaken off the COVID-19 fear and opened with full operations. In 2021, several sweater manufacturers expanded operations while five of them made fresh investments in production units, says Shahidullah Azim, Vice President, BGMEA.
Two other entrepreneurs including Shahidullah Azim and Mostafa Golam Quddus, Former President, BGMEA, plan more investments in their production units in the next two years. Quddus believes, training local workforce will help in boosting his Bangladesh business. He launched Dragon Sweater, knitting and spinning project in 1993 after training the local workforce.
China's exit provides expansion opportunity
Worth around $104 billion, the international sweater market is currently dominated by China, Cambodia, Turkey and Myanmar. However, China plans to exit the market due to rise in production costs and sweaters being a basic export item. China's exit will benefit Bangladeshi entrepreneurs like Rafiqul Islam, Owner, Designtex Knitwear, who will increase his investment in sweater unit by 2022-end.
Local manufacturers make only low-cost sweaters and export them for around $4-$6 per piece. They can boost exports by making high-value items like 'cashmere wool sweaters' for $100-$150 apiece. The raw materials for these items can be availed from India, China, and Mongolia.
Lack of infrastructure hampers growth
Currently, around 25 factories in Bangladesh make sweaters from acrylic fiber and other fashionable accessories. However, most of these factories lack in skilled workers, innovation and design centres and a strong backward linkage. Activities in these factories are also hampered due to complications related to the harmonized system code. This causes a struggle amongst sweater-makers to bag orders from big brands.
These factories also have low capital for investment. Setting up a small factory with 200 machines needs $1.6 million for machines alone, adds Romel. This makes investments difficult to get, he adds. Also finding workers has become difficult in the country, which is hampering production, he adds further.