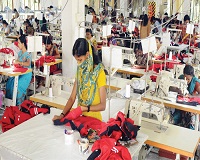 Fabric sourcing, till a few years ago, was one of the most challenging tasks. But increasing options of fabric sourcing, advanced technologies and awareness about quality have improved the conditions for fabric sourcing; though some challenges still prevail and industry continues to struggle with those issues.
The procurement of synthetic fabrics or yarns is more of a concern than cotton yarn or fabric. There are some yarns or blends that are not available in India, like Cashmere in wool. Additionally the man-made fibre sector attracts a lot of duties which increases the costs of these fiber manufacturers. Local Indian producers then often quote high and unexplained prices. Import duties on fabrics, is another cause of concern as it increases the price of fabrics; especially linen and imported silk.
Need to control price volatility
Garment manufacturers using cotton fabric are almost helpless when it comes to price volatility as prices increase anytime
without any strong and valid reason.
Though in past 10 years, situation in sourcing of Indian fabric has improved, the main challenge of sourcing cotton and cotton blends yarn still exist like before. When prices of yarn increase, suppliers prefer to deliver it at current rate to gain extra profits though they are supposed to deliver it first to the buyer to whom he has already agreed upon earlier at lower prices. Such issues need to be addressed as they not only delay fabric development but also the overall efficiency of the business.
Low fabric quality a bane
As for quality, apart from good vendors, fair price, strong check, trial runs are being adopted by many apparel manufacturers. However, whenever there is a tilt towards cotton export, yarn manufacturers or suppliers increase prices without any reason. There is no way to control illogical price hiking. Some exporters see it as market dynamics and manage accordingly. Chinese or imported fabric quality is better. Most buyers approve Indian fabric as there is no other viable option and prices of Indian fabrics are a little lower. Therefore, Indian companies need to adopt similar advanced infrastructure like China.