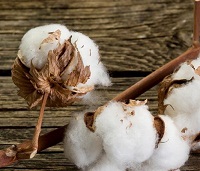 With US Department of Agriculture (USDA) projecting lower opening stocks, production and ending stocks this cotton season from October 2020 to September 2021, global cotton prices shot up from the beginning of this year. This surely is good news for Indian cotton exports. As a Rajkot-based raw cotton, yarn and spinning waste trader Anand Poppat says based on these trends, India's cotton exports can touch 65 lakh bales (170 kg each) and this can help reduce the country's huge carryover stocks from last season, reports Moneycontrol.
However, as per Cotton Association of India (CAI) president Atul Ganatra export demand is slow at the moment due to the pandemic and ongoing lockdown in Europe and other countries. CAI pegs exports at 54 lakh bales this season.
Global cotton prices on a high
A little number crunching reveals as on January 19, 2021, cotton prices in New York were 81.29 US cents or (Rs 47,075 a candy of 356) per pound for
delivery in March against the previous close of 80.70 cents. For May delivery of cotton for May the prices being quoted is 82.60 cents (Rs 47,850/candy) and July delivery stood at 82.91 cents (Rs 48,025). All these figures are above previous close. In comparison, India's Shankar-6 variety, a benchmark for exports, was quoted at Rs 43,400-43,600 a candy.
Ganatra says cotton prices in India are steady after some correction last week. On MCX, cotton for delivery next month was traded at Rs 21,420 a bale (170 kg), which converted to candy is Rs 44,856. In fact, raw cotton prices are regaining after a drop.
Chinese demand good for India
The USDA in a recent outlook projected lower production in the US, Pakistan, and Mali could offset the higher production in Greece, Turkey and Australia. In fact, Turkey's higher production levels were revised later from 16 per cent increase to four per cent. While consumption estimates for China, the world's largest consumer, and Turkey were increased. As per USDA, China is expected to import 135 lakh bales.
The world's largest producer of cotton, India, whose production is pegged at 377 lakh bales by USDA, could export nearly 64 lakh bales. CAI however does not want to speculate on Indian cotton exports just yet. However, other stakeholders are more optimistic and expect prices to rise further with reports of China's textile exports being higher than last year. Chinese are importing yarn from Bangladesh and Pakistan with growing demand and depleting stocks. While Ganatra expects cotton prices to rule steady, others say chances were bright for a rise in rates and exports soon.
Poppat explains as of now exporters can avail CCI's huge inventory and this is keeping prices on a leash, as the CCI has fixed a cap for daily sale. If the cap is removed, prices will go up. If cotton futures in the global market rise another 3-4 cents, it could tend to push up Indian prices, he feels.
Lower carryover stocks
Poppat also believes export demand will not affect domestic spinning sector, which has two to 2.5 months inventory. He also expects premium for quality cotton to increase as availability is low. And with higher exports cotton carryover stocks will go down to 85 lakh bales this season against 125 lakh bales last season. However, CAI, projects carryover stocks at 113.50 lakh bales estimated based on India's cotton production which is pegged at 358.50 lakh against 360 lakh bales last season.
Meanwhile, the Ministry of Agriculture in its first advance estimate of commercial crops for 2020-21 season, projects cotton production at 371.18 lakh bales. Carryover stocks are higher as the textile industry had to shut during due to the pandemic and lockdown.