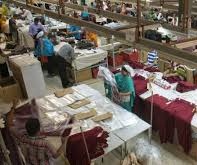 Experts at a recent webinar on the theme ' Restart Asian Economies' opined , in order to grow further and consolidate its position in the global market, the South Asian readymade garment sector needs to first strengthen its regional ties and explore new markets. Organized by the Friedrich Naumann Foundation for Freedom, South Asian Regional office, the webinar was moderated by Najmul Hossian, Bangladesh Representative of the foundation. Speaking at the webinar, industry experts AFM Nurur Rahman, General Manager, Ha-Meem Group and Felix Fernando, Group Director, Omega Line said, the sector needs to shun its big brother-small brother mentality, and review existing Free Trade Agreements.
Bangladesh, Sri Lanka feel COVID-19 heat
Bangladesh had started feeling the heat, months before COVID-19 caused disruptions in the sector. The country was witnessing delays in receiving raw
materials and lack of new orders. As per BGMEA reports, Bangladesh lost orders worth $13.8 billion owing to COVID-19.
Similarly, Sri Lanka suffered a 25 per cent decline in orders between January and August this year compared with the same period of 2019. According to Fernando, the Sri Lanka depends on two major markets for garments exports-- the US and the EU. These two markets are currently heading into the winter months, and a second wave of the virus expected to raise its head during that season.
The Sri Lankan garment industry faced further setback when thousand garment workers tested positive for COVID-19. The country placed areas where patients have been identified under police curfew besides closing several garment factories. The country employs over 15 per cent of its eight million strong workforce, in the garment sector and most of them are women.
Cutting costs to save revenues
To save escalating costs, both countries stopped working overtime. Bangladesh laid off some employees besides reducing facilities for those in the management and higher income category. The Sri Lankan government allowed garment companies to pay staff 50 per cent wages in May and June and helped with a subsidy. It also allowed these companies to pay either 50 per cent of the salary or LKR14,500 whichever was higher for those working from home.
New schemes to cut back staff
To adhere to social distancing norms and cope with the decline in orders, Sri Lankan companies decided to shut down few garment plants. They also introduced a voluntary retirement scheme, with compensation calculated according to the number of years served, and work years left had been offered and that a majority who took this package were those in management.
Both Rahman and Fernando felt to be price competitive and quick turnaround, they need to introduce better and consistent policies. Rahman advised the government to provide uninterrupted energy supply and better access to health care facilities. Fernando said, the Sri Lankan garment industry should get out of the basic garment mentality. The country needs to shun the GSP plus category and attain self-sufficiency in raw materials.
Renegotiate FTAs
Sri Lanka also needs to review the feasibility of local fabric products, which requires efficient water and wastewater disposal, said Fernando. It also needs to renegotiate Free Trade Agreements (FTAs), as some of their provisions may not be beneficial to the country, he added.
Both Bangladesh and Sri Lanka seem skeptical about achieving their targets within the designated period. To achieve targets both need to strengthen regional growth, said experts.