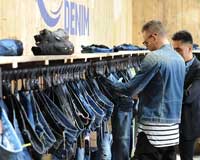 The Denim Premiere Vision Show, to be held on November 14 an 15 at the Paris Event Center (PEC), connects suppliers and buyers, responds to changes in the market and reflects the evolution of denim values through four key events: strengthened and multi-faceted fashion point of view; a distinctive offer featuring a new area dedicated to small quantities; eight workshops & conferences; and a festive event. The eight workshops and conferences would focus on 5 main issues, which include denim's new socio-cultural values; fashion at the heart of denim; the keys to a denim product's success; the circular economy and new business models; and changes in the value chain.
The denim pop-up street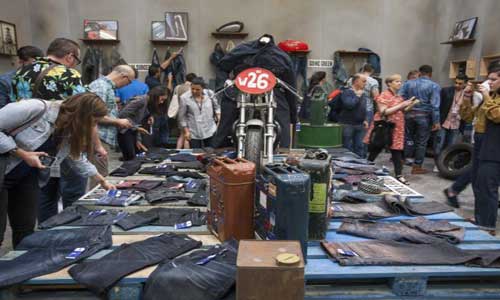 It will feature collections by avant-garde designers, cutting-edge players from the world of denim, art galleries, street art, collective ateliers. In the heart of the Marais, Rue du Vertbois will be entirely given over to denim, with a dozen boutiques taking part in an unprecedented night of experiences and shopping open to the general public.
Pure players, the show's longstanding target, are now joined by new players with more diversified codes, profiles and expectations. Brands and fashion designers coming from luxury, medium and high-end ready-to-wear markets, web pure players, retailers, new generations of designers and consumers: these multiple communities are now gravitating into the denim universe.
Fashion & Trends: Areas to find inspirations
For younger generations, responsibility has become a prerequisite for creation, product development and the choice of materials. This imposes structural changes throughout the entire production value chain, which are at the heart of the themes presented by Denim Première Vision in its Smart Creation platform. This season, Denim Première Vision proposes a double event, at once open to younger generations and faithful to the heritage of denim, with fashion, the avant-garde, innovation and digital evolutions at its core, via an offer and program providing concrete solutions to this changing market. Denim Première Vision will be providing inspiration in three key areas dedicated to spring summer 19.
Showcase of avant-garde designers
Selected for their avant-garde creativity, eight international designers worked in collaboration with the show's exhibitors to create 16 exclusive silhouettes. Exhibited in a dedicated area, they showcase their contemporary vision of the coming season. Their collection for sale will be displayed at the Denim Pop-up Street.
Meanwhile, the Trend Area has been updated for spring summer '19. Arty and contemporary, the Denim Trends Area developed by the show's fashion team will offer a more informative, efficient and immediate reading of seasonal stand-outs. Fabrics, accessories, finishes, cuts and silhouettes... all the season's must-haves will be introduced through 10 inspiring highlights, presented via a selection of creative, technical and technological products and developments from exhibitor's collections.
Premiere vintage market: season 3
The show welcomes the 3rd edition of this space, designed to provide inspiration and an exclusive shopping experience. Partnering the Première Vintage Market, teams from Italy's Denim Boulevard have travelled the world to select the original pieces that will be offered exclusively at the show. A source of inspiration for creatives and designers, as well as an unique shopping space where denim lovers can find their favourite pieces.
Exchanges of ideas, collaborations, business this event will allow players in the denim sector to come together around the latest creative, technical and technological developments presented by the market's most innovative suppliers.
There will also be a distinctive area dedicated to small quantities. Around 75 international exhibitors have been selected by a committee of experts and professionals including weavers (49 per cent), manufacturers/ launderers/ finishers (26 per cent), accessory makers – labels, rivets, buttons (15 per cent), technology developers (5 per cent), promotional organisations and service providers (3 per cent), spinners, to showcase their offerings. This will be known as SMQ corner – small minimum quantities.
To adapt to the needs of denim brands and fashion designers, the event is launching a new area: the SMQ Corner – small minimum quantity corner. A space that will bring together a selection of fashion manufacturers, laundries and finishes offering rapidity and reactivity, technical and technological know-how, a quality and proximity service, fast time to market, and above all flexibility in terms of production volumes. Five companies from Italy, Morocco, Portugal and Turkey will be featured in this space.