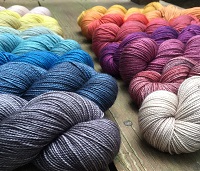 When Prime Minister Narendra Modi extended the nationwide lockdown till May 3, most of cotton mills in India were shut down. However, the government allowed some spinners in Uttar Pradesh, Gujarat, and Punjab to resume production. A small number of spinners resumed work with operating rate ranging between 10 to 50 per cent, mainly focused on fulfilling recent contracts.
Despite this, production has not resumed to its full capacity due to the lack of workers and orders. Some factories have decided to shut down their operations after completing domestic sales and a small number of export orders.
Lackluster market with bleak shipments
Even before India entered into a lockdown, cotton yarn market was still lackluster with bleak shipments in spite of liberating policy on Indian yarn mills
operation. As CCF Group Index reports, the price of Indian forward cotton yarn kept sliding with prices of yarns mainly exported to China, such as Indian carded yarn, combed yarn and open-end yarn declining since February. Prices of combed 32S dropped from $2.96/kg to $2.47/kg; those of carded 32S dropped from $2.59/kg to $2.29/kg, and of OEC10S fell from $1.66/kg to $1.52/kg.
Rapid decline in spinners' profits
The spot price of Indian cotton also declined from Rs 39,400/maund at the start of Chinese New Year holiday to Rs 37,100/maund. Although this reduction was a result of depreciation of Indian rupees, profits of Indian spinners also declined rapidly. Based on the one-month and two-month cotton stocks, these spinners suffered losses about 10cents/kg.
Declining prices fail to stimulate orders
Cargo prices declined during the period as did the prices of spot imported yarn. The prices of Indian carded 32S declined to 19,100yuan/mt from 20,600yuan/mt in February. Compared to prices in United States dollars into RMB after-tax price, these prices failed to stimulate forward yarn orders. Since the outbreak of the epidemic, however, the prices of these yarns in United States dollars have fluctuated rapidly.
Lockdown leads to decline in orders
The social stock of imported yarn before the lockdown was at an all time high, and shipments were not fast. The operating rate of downstream fabric mills was around 30 to 40 per cent, much lower than that in same period last year. Post lockdown, the willingness of imported yarn mills to order cargos is unlikely to significantly improve before the orders of the fabric mills are improved. Due to the initiatives launched to prevent the spread of COVID 19 outbreak, it will take some time for Indian yarn mills to resume work. As the prices of Indian cotton and cotton yarn prices have been falling, the theoretical profits of spinners are mostly at a loss. Even transactions are limited due to poor shipments in the spot market.
Though the operating rate of Indian yarn mills is gradually recovering, it would be difficult for them recover to 100 per cent.