Companies have long been experimenting with newer versions of T-shirts to lure consumers. Of late, graphic, logo and tie-dyed tees are in trend especially among kids, hippies, jocks and gamers. The entire fashion diaspora seems to have catapulted with the popularity of athleisure and has attracted the attention of luxury designers and celebrities. Anthony Moni, men's stylist, Rag & Bone's SoHo, New York, says graphic tees are important right now, especially among the youth. Most of the T-shirts at Rag & Bone are made of 100 per cent cotton.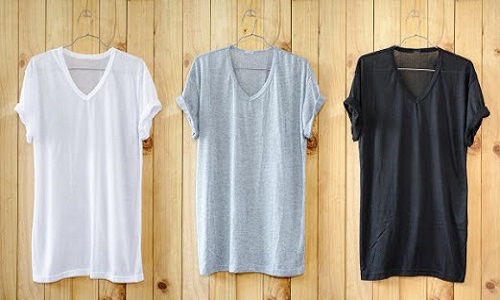 They also retail at a higher end price point, too: base tees retail for $75 while fun graphic models go for about $120 and its signature dagger embroidery tee sells for $125.
Compared to clothes produced with manmade fibers, more than eight in 10 consumers say cotton is the most comfortable (87 per cent), according to the Cotton Incorporated Lifestyle Monitor Survey. Consumers also say it's the most sustainable (85 per cent), trustworthy (85 per cent), soft (85 per cent), authentic (83 per cent) and reliable (81 per cent). Another research points out all consumers want the authenticity of natural fibres. Nearly six in 10 (59 per cent) say they are actually bothered when brands and retailers substitute manmade fibres for cotton in their T-shirts. Women are significantly more likely than men (64 per cent versus 53 per cent) to be irritated by this. Additionally, the majority of consumers (65 per cent) are willing to pay a premium to keep their T-shirts cotton-rich. Additionally, more than seven in 10 say better quality garments are made from natural fibers like cotton. Going by demand, Off White, A Bathing Ape and OVO (October's Very Own) all have graphic, message, fun or irreverent tees that are all-cotton or cotton rich. Supreme also deals in 100 per cent cotton in its t-shirts, although every item it offers is completely sold out.
Fashion fixation
For G-Star RAW, camo-style tees are trending for men. Tees are a basic staple. Some look at logo tees and say it's not something they will want to wear. But it's an entry-level item, especially if someone's shopping at a big brand or designer label. So, if a tee has a logo, some shoppers will get it just for that. Even more popular though: limited edition 'Star Wars' collection tees ranging from $95 to $150. They sold out online almost immediately. Marcus Wainwright, CEO, Founder & Creative Director, Rag & Bone, grew up with the 'Star Wars' movies and loved them. He decided to do a little collaboration to share how he felt about the franchise through his clothing. He wanted to incorporate Star Wars in a way where it wasn't so uniform, but rather could be worn everyday. It's also going to be very significant to the company because it's all cotton.