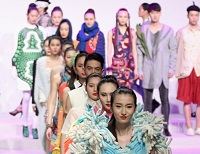 Known for their artsy, edgy and socially risky designs, Chinese designers like Qiu Hao and his partner Wang Chuqiao (Qiaoqiao) have cemented their position by opening designer boutiques in the country. These collective designer shops such as those on Brand New China (BNC) and Dong Liang have provided Chinese fashion designers diversified retail options. The 540 sq m BNC store houses the largest collection of over 150 Chinese fashion designers under a single roof. Designed by Yung Ho Chang, an architecture professor at MIT, the store's glass facade allows a view into the store's interior and customized displays.
Designer shops like these have been rapidly growing into Tier II cities across China. Many of these shops integrate online retail with offline try-on services, fans' activities or entertaining promotional experiences.
Lack of service and media exposure
Though the growth of fashion e-commerce has been rapid in China, these boutiques remain critical for Chinese luxury designers as they
enable them to personally interact with customers. However, though these designers train their sales staff as communicators and persuaders on the selling floor, most fail to focus on customer service due to budget constraints, says Designer Liu Canming, also a professor at Donghua Uni¬versity.
Many designers also lack media exposure. While designers such as Wang to participate in fashion shows they do so only for showcasing their collections and not selling.
Seeking visibility through fashion shows
A fashion show that is popular with designers is the Shanghai Fashion Week, which provides them a highly visible platform to display their collections. Initiated by the Shanghai Municipal Government and the SFW Organizing Committee since 2003, Shanghai Fashion Week is often criticized for failing to attract international buyers. In 2013, the show, along with the Shanghai Fashion Designer Association, launched a 'Design by Shanghai' program during London Fashion Week to promote young Chinese fashion design talent to international buyers and con-sumers.
Another government-supported multi-entity, the Shanghai International Fashion Federation, organized the first Shanghai New Couture Week, April 10-16, 2015, which is an important part of the city development plan. New Couture Week is supported by the Shanghai Promotion Centre of Design, whose goal is to aid the establishment of Shanghai as a world centre for design and creativity, which is in line with the central government's call for an economic trans¬formation from a labor-centered, industrialized and environmentally unsustainable economy to one driven by service, creativity and personnel.
Offering authentic fashion in familiar style
Fashion foundations and collective showrooms in China also showcase the country's future fashion shapers. Independent designers organize fashion shows featuring ordinary consumers walking the runway in natural poses and with natural facial expressions. These shows are intentionally held in obscure, using bars, deserted factories, old houses or concert halls.
As Chinese consumers seek authentic fashion in familiar style they are not bothered about the original inspiration for these designs. This allows Chinese designers to be inspired by other art forms or cultures or hire foreign professionals. Though the creativity of these designers can be legitimized by the Chinese market, they can't be given a collective identity as they have diverse backgrounds and multiple approaches to design and retail.