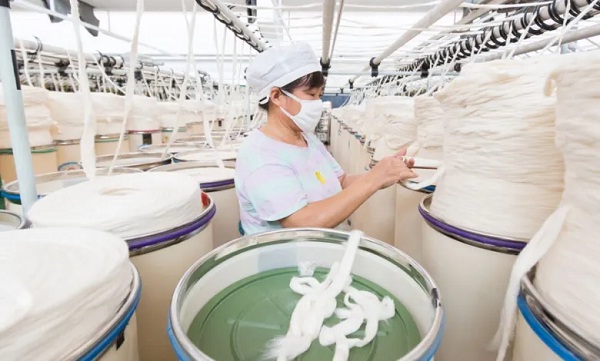 China's current textile troubles can bring new opportunities to India's exporters as demand for cotton from China has dropped this year. A few Chinese companies have lost up to 30 per cent orders, as per Beijing Cotton Outlook, the South China Morning Post. The number of textile factories with operational machines has also declined 13.3 per cent, as per the China National Cotton Information Centre. Experts believe, this could worsen as more countries stop buying cotton from East Asian countries.
Step up exports to China
KK Lalpuria, the Executive Director and CEO, Indo Count Industries, opines, India should take this opportunity to increase textile exports to China. India currently holds about 6 per cent market share. The government should aim to increase textile exports to $100 billion by 2030. To reach this goal, Indian exporters need to overcome numerous bugbears indicates a CRISIL Ratings report. Cotton prices have more than doubled in one year, making the situation even worse. Rise in domestic cotton prices has led to exports becoming less competitive.
Gautam Shahi, Director, CRISIL Ratings, attributes this to an increase in the price of raw materials like cotton due to a US ban on cotton produced in Xinjiang, China which is the biggest producer of the fiber. He urges the government to help players in the sector achieve steady growth. Experts also advise the government to introduce policies that encourage diversification of textiles portfolios, capacity building, and competitiveness. Also, there is a need to focus on new foreign trade agreements (FTAs).
Include textiles in FTAs
Anand Ramanathan, Partner, Deloitte India, urges the government to include textiles into all FTAs. These agreements can significantly impact India's textile industry. For example, the India-UAE trade pact will help lower import duties for Indian exporters. This will boost trade between the two countries besides making the textile industry more competitive and help create jobs. As per a report by the Press Information Bureau, India's textile and clothing industry adds about 2 per cent to the country's GDP. Before COVID began, it employed close to 105 million people. Hence, the government needs to help the sector by adopting the 'China Plus One' strategy to get a more significant share of the global textile market. Lalpuria says, India can benefit from this policy as many international brands have diversified to other places instead of China.
Boost prices cotton through mechanization
India can also benefit from its huge cotton production and a well-established industry that makes all kinds of fabrics and yarn. Schemes like the Production-Linked Incentive (PLI) scheme and the Interest Equalisation Scheme have helped make the country more competitive. Growing at a 6.2 per cent CAGR from 2020 to 2025, India's technical textiles exports are worth $2 billion with the country aiming to reach a goal of $10 billion exports in three years.
Cotton prices can be fixed by increasing the number of cotton crops and using machines, says Ramanathan. He advises farmers to connect with banks to get money and ensure more mechanization and investments in new technologies.
Adopt sustainability
Farmers also need to monitor new trends catching on around the world. They need to learn about sustainable ways to make things. RK Dalmia, Senior President and Director, Birla Century says, they aim to integrate sustainability throughout the entire value chain. About 84 per cent of trash being produced by them is being recycled or reused. It recently also started recycling of fly ash from power plants to make factories more in line with international standards, he adds. Ramanathan opines, ensuring responsible production of fabrics can help boost exports. It can also help manufacturers procure all raw materials from one place. This can give India a big advantage over Bangladesh and Vietnam, he adds. Thus, to achieve the $100 billion export goal, Indian government and players need to focus on resolving the current problems, adds Ramanathan.