Indicating China's strong recovery from COVID-19 pandemic, the latest edition of Greater Bay Area International Textile and Apparel Expo, held from July 15 to 17, 2020 recorded the presence of over 42,374 visitors. Spread over 80,000 sq. mt. exhibition space the three expos CHIC Shenzhen, Intertextile, Yarn Expo and PH Value, was attended by over 2,000 exhibitors showcasing latest innovations in the textile and fashion industry. The fair was organized in compliance with all necessary safety and hygiene measures to prevent infections. For example, visitors had to register with their ID number. They were allowed to enter only with their 'green code' app and a travel record and visitors from risky areas had to show evidence of a negative RNA test.
Covering all trade segments
The collections presented at the CHIC Shenzhen show were divided in 13 trade fair segments such as the Urban View segment for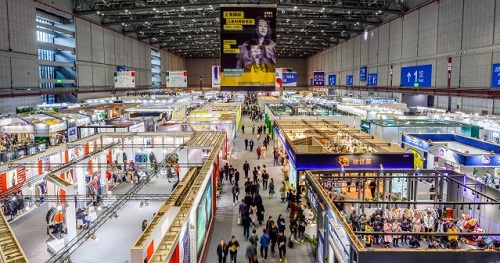 menswear; the Denim World and New Look Segments for women's wear; the Heritage segment for showcasing leather and fur collections; Chic Tailoring segment for bespoke collection; the Impulses segment for designer collections; the Young Blood segment for showcasing the collections of young streetwear labels, the Chic Kidz and Future Link segments for new technologies; and Bags, Shoes, Secret Stars segment for showcasing accessories.
In the Impulses segment, Chinese luxury lingerie brand Merrige attracted the most number of visitors as it showcased a charming collection by designer Cherry Zhuang, who skillfully blended Western and Eastern aesthetics. Another prominent exhibitor in this segment was brand Ricocao, who participated in the trade show for the first time. Cao Aixia, Founder and Art Director of the brand said, "Chic offers the right platform for exhibitors to meet the most relevant players in the market."
The Heritage segment reported a flurry of activities with brands Kopenhagen and Saga Fur receiving many new orders. The Urban View segment featured many prominent Chinese brands like Zhuangchen, Paishi or Nuohua while bespoke companies such as Fashion Dream Works, Oriental International Group or Weidu Textile presented their craftsmanship in the Chic Tailoring segment. The New Look segment welcomed companies like Meirenji and Lyn Fong while the Future Link segment presented latest technologies for recycled denim fibers.
Networking opportunities by innovative events
CHIC Shenzhen also offered networking opportunities with key accounts from the Greater Bay Area through its match making tool. The tool used by more than 240 exhibitors and over 23 meetings took place at the fair.
CHIC Online: The Chic online applet enabled offline to connect with exhibitors and view their collections. This tool was used intensively, more than 180,000 clicks and over 14,000 contact requests were recorded.
Workshops and lectures: The "Create Tomorrow" summit, held as a part of the Greater Bay Area Summit, featured experts from retail, industry and design. They discussed future-oriented topics for the fashion industry. Some topics of discussions at the workshop were: 'Sustainable fashion' on the first day of the fair, 'Creative design' on the second and "Supply chain construction" on the third day.
An opportunity to refresh portfolio
More than 42,300 visitors attended the Greater Bay Area International Textile & Apparel Expo. For visitors, Chic Shenzhen presented an opportunity to meet their favorite brands face-to-face on a common platform. The fair also represented its exhibitors ranging large shopping malls and department store groups such as Wanda Plaza to Liqun, R&F Global Merchandise City and multi-brand boutiques such as Sanfu, Westlink, the Fashion Door, or 1 Wor to all relevant online platforms such as JD.com, amazon.cn, Wangyi.com, youzan.com, enedeAli Express etc.
"CHIC Shenzhen gave the opportunity to refresh and complement our portfolio. We also clinched business deals with some of the new brands exhibiting at the fair," said Jiang Shixiang, Owner, HanaTebako Boutique, one of the visitors at the fair.