Close to 65,722 professional visitors attended at the recently concluded Chic 2017 Autumn edition in Shanghai. Special focus was placed on new and innovative collections as retailers look for high quality and debut luxury collections. In addition, China's intensive endeavour for a clean planet plays an important role in the fashion business. A 'Green Thread' was prominent across the three-day event. Exhibitors presented technological, ecological and contemporary novelties at the fair. In his keynote address, Sun Ruizhe, President, China National Textile and Apparel Council, underlined the importance of sustainability in today´s economy and called it a 'must'. The initiative 'One belt, One Road' also supports the fashion business on the stage of the global fashion industry. Talking about the positive response, Chen Dapeng, Head of Chic and Executive Vice President of CNGA said, "We are never subject to conventions and never stick to past achievements."
Exhibiting innovations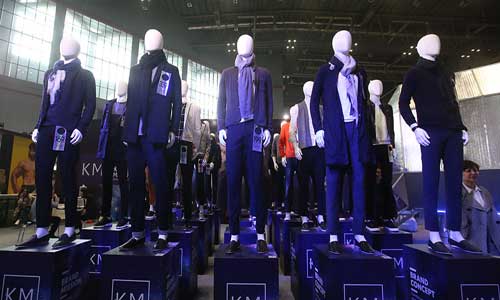 Around 783 exhibitors from 16 countries and regions presented 815 fashion brands at Chic. Most of exhibitors were from China but many other nations including Denmark, France, Great Britain, India, Pakistan, South Korea, et al, benefitted from this fashion business platform. The event was structured into nine sectors: Urban View, New Look, Kids Paradise, Fashion Journey, Heritage, Impulses, Secret Stars, Superior factory, The Unit. Integrated as Shows-in-show: Chic Young Blood, Shanghai Bag Expo and Preview China from South Korea.
And Andrea Fessura, CEO, Fessura, said, "We are satisfied with our participation within the Italian pavilion. We had many contacts, which are certainly more selected then those we made joining the show outside the Italian pavilion in the past as individual exhibitor. We will definitely join the next show in spring again. Gionata Funari, Sales Manager, Giovanni Fabiani, said, "We never had as many contacts as this edition. Chic is one of the best platforms for us to position our brand successfully in the Chinese market." Jin, Team leader, Kofoti, South Korea was satisfied with the participation. This time, they were focussed on designer brands. The visitor number at their pavilion was not as high as in March but the results were good. The got good orders.
Novelties on display
Among the innovative offerings, Shaoxing pavilion offered an emphasis to smart casualwear. Among the exhibitors were 13 formalwear enterprises, next to 'bespoke' exact measuring manufacturers presenting their collect ions. Bespoke menswear was one of the leading topics at Chic Autumn with Cezon, Aspop, Taizhou Goldjitai Garment, Long-Sailing and Jinyuanyang, being specialists in this field. The popularity of bespoke services is a direct reflection of the market´s need for individuality and customisation. Even jeanswear brand In Cell introduced its bespoke services at Chic.
Within Kids Paradise, school uniform brands Eton Kidd And Yuanlou displayed innovations such as garments with anti-bacteria, waterproof, anti-fouling and anti-allergic effects. Yuanlou presented its wearable position function that allows locating the child. Eton Kidd held a seminar on the importance of social responsibility in the field of school uniforms, realised by the use of environmental as well as health friendly materials.
Country pavilions
Elegant womenswear, menswear, shoes and fashion accessories were showcased at the Italian Pavilion as well as the French pavilion 'Paris Forever' in the international area Fashion Journey. The Korean participation, Preview in China, focussed on designer brands this time and received a lot of attention. Individual exhibitors from Canada, Denmark, and Greece showed their latest collections of cashmere womenswear, hats and jewellery.
Eco-emphasis
The Sustainability Zone, premiering at Chic and organised by the China National Textil and Apparel Council, wa attended by numerous visitors. Next to fashion manufacturers presenting their latest innovation on environmental friendly production methods and social responsibility initiatives, it hosted the China Fashion Forum, which was focussed on CSR. Environmental-friendly initiatives were launched by many companies, such as Fruit Dye from Foshan City, Guangdong Province, dying textiles 100 per cent without chemical additives, or the development of a coffee carbon fibre produced from coffee residues by Shanghai Different Chemical Fibre belonging to Shangtex Group Shanghai. This idea will be taken ahead in the upcoming event to be held in March with the introduction of the area Chic Green presenting eco-friendly fashion.
The next edition of Chic Shanghai March will take place from March 14 – 16, 2018. Its focus will be directed at the upgrading and evolution of creative, design-oriented fashion, at the same time, increasing intelligent service and support to meet all needs of the new retailing modes.