Yesterday, Wu Qing, vice mayor of Shanghai, together with a group of officials from the industry and public health departments in the city, toured Shanghai Challenge Textile Company Limited which is seated in Tinglin town in Jinshan District, outskirt in the southwest of Shanghai, for inspecting protective gear production to solve problems that might crop up at the time when the existing machines are running in full capacity and the new lines are put on stream because the populous metropolitan itself has to challenge the shortage of protective textiles with increasingly incoming workers who return after Chinese Lunar New Year holidays.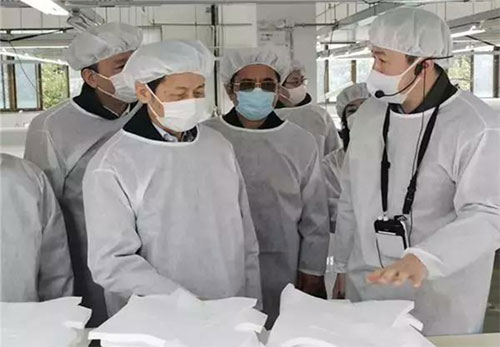 Robert Yang (1st on the right), ex-president of China Knitting Industry Association (2005-2015), incumbently, president of Shanghai Challenge Textile Co. Limited, reported that the company was called to produce protective garments on a short notice, and mobilized in a quick-responsive system to get the first batch of raw materials on February 3 to turn out 500 units of quarantine-purposed protective clothing the next day. The trial production was a success on daily account because the company has, for twenty years, been specialized in high-end fine wool fleece knit fabric and garment, including outdoor sports wear rather than this category of medical and health protective wear. As of February 9, the daily output is rated at 5000 units in capacity and expected to reach 10,000 in five days after remodeling the process flow and management improvement. Robert Yang pledged to expand the production capacity for the one-off isolation apparel to arrive at 20,000 units a day as driven by the pressing demand of the grave situation for the epidemic disease prevention and control and the actual needs from the government and the market.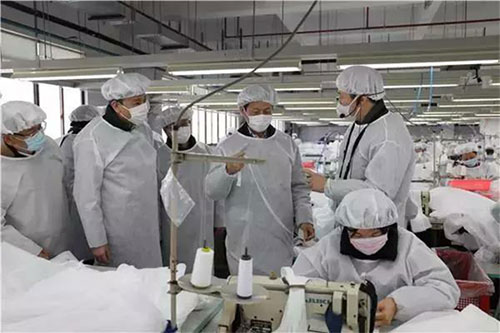 Robert Yang's outlook to the market demand is right as the source from the Ministry of Industry and Information Technology (MIIT) shows that as of February 2, the whole country was accessible only to 20,000 units of medical and health protective wear in daily output, a marginal increase from that of January 28, still leaving much room to be fulfilled, far from cry, as thousands and thousands of doctors and nurses dispatched across the country to Wuhan, the coronavirus-ridden city, need to be well-equipped against any trace of possible contagion on the battle front, people from all walks of life from villages to cities in the country also need preventative measures to protect themselves against risk in daily life.
As a years-long business partner for famous international brands, such as Adidas, Uniqlo, Milliken, Polartec, Icebreaker, VF Corporation etc., Shanghai Challenge Textile Co. Limited is trustworthy of being a reliant, efficient, corporate-compliant quality supplier for medical-care protective wear and gear.
Contributed by Mr. ZHAO Hong
He is working for CHINA TEXTILE magazine as Editor-in-Chief in addition to being involved in a plethora of activities for the textile industry. He has worked for the Engineering Institute of Ministry of Textile Industry, and for China National Textile Council and continues to serve the industry in the capacity of Deputy Director of China Textile International Exchange Centre, V. President of China Knitting Industry Association, V. President of China Textile Magazine and its Editor-in-Chief for the English Version, Deputy Director of News Centre of China National Textile and Apparel Council (CNTAC), Deputy Director of International Trade Office, CNTAC, Deputy Director of China Textile Economic Research Centre. He was also elected once ACT Chair of Private Sector Consulting Committee of International Textile and Clothing Bureau (ITCB)