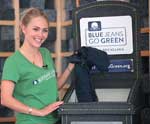 When denim is worn out, consumers tend to dump old clothes but now denim makers have a new way of reusing used denim. The Blue Jeans Go Green denim recycling programme gives new purpose to old denim. Roian Atwood, Director – Sustainability, Wrangler points out that in 2017, the company contributed more than 43,000 pounds of denim, which produced over 80,000 sq. ft of insulation. In 2006, Cotton Incorporated started the program to help divert denim from landfills. Since then, more than two million pieces including jeans, shorts, skirts, jackets, dresses, and shirts, have been collected and turned into housing insulation.
UltraTouch Denim Insulation is created through a partnership with Bonded Logic Inc. To create this insulation, denim garments are collected. Zippers, buttons and embellishments are removed. The denim is returned to its natural cotton fibre state and then it's upcycled into denim insulation. So far, more than 4 million sqft of insulation has been manufactured from the Blue Jeans Go Green programme. With this initiative, more than 1,000 tons of denim garments have been kept from being sent to landfills. Looking at the success rate, big giants such as Holt Renfrew, Madewell, Rag & Bone, and J. Crew, have also partnered with the move. At each store, when used denim is dropped, the customer receives a dollar or a percentage towards buying something new from the denim range. So far, Madewell alone has collected close to 300,000 pairs of jeans, and as a result more than 300 Habitat for Humanity homes have been built with insulation made from the pre-worn denim. The homes were built in cities that included New Orleans, Charleston, and Los Angeles.
Wrangler is the recent partner to the program. Currently, the company collects denim scraps, material and products from its internal manufacturing, product development and distribution centres. Atwood observes if customers want to mail in their old denim to headquarters, the company will include it in its recycling programme. In 2018, Wrangler is working together with the Blue Jeans Go Green programme to provide 130,000 sqft of the sustainable denim insulation to All Hands and Hearts – Smart Response for its rebuild effort after Hurricane Harvey.
Upcycling & recycling
The Cotton Council International (CCI) and Cotton Incorporated Global Environment Survey, revealed about three out of four consumers or more say they recycle (82 per cent), use refillable bottles (74 per cent) and purchase energy-saving appliances (72 per cent) in an effort to protect the environment. That's followed by consumers who say they limit home water usage (69 per cent), recycle clothing or textiles (65 per cent), purchase local made products (62 per cent), and reduce overall consumption (55 per cent).
Besides retailers and manufacturers, Cotton Incorporated's Blue Jeans Go Green programme has partnered nearly 60 colleges and universities across the country and collected more than 200,000 pieces of denim along the way. Atwood says the company is excited for the possibilities of engaging consumers in the programme. The company has already been insulating homes in Lumberton, NC, post-Hurricane Matthew, and All Hands has already been using the denim insulation for houses and schools in northeast Houston.