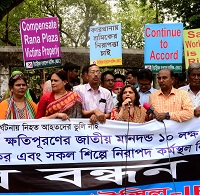 With the Accord on Fire and Building Safety in Bangladesh set to expire in the next two week, time is ticking for Bangladesh to follow it up with a new safety agreement. This Accord agreement was signed by Bangladesh in 2013 after the Rana Plaza building collapse that killed over 1,100 workers and injured many more. The agreement revolutionized factory safety inspections in Bangladesh. Its binding nature, transparent reporting, and robust grievance mechanism, helped the country save thousands of lives by reducing building collapses and factory fires.
Expanding reach to other countries
In January 2020, governing brands and union assented to follow Accord up with a new agreement covering other
countries as well. The agreement would ensure safety rules remain binding even after the expiry of the current contract.
Negotiations for the agreement started late due to the COVID-19 pandemic and have dragged on beyond the initial deadline of May 31, 2021. The agreement did not attract brands like H&M, Aldi Nord, Otto, Auchan, and Carrefour, who failed to comply with human rights due diligence obligations, both under the French Corporate Duty of Vigilance Law or Loi de Vigilance as well as the upcoming German Act on Corporate Due Diligence Obligations in Supply Chains or Lieferkettengesetz.
Legal risks await companies leaving Accord
Miriam Saage-Maaß. European Center for Constitutional and Human Rights, believes, companies leaving the Accord risk legal proceedings under the French as well as the German law if they fail to fulfill their due diligence obligations.
Hundreds of factories in Bangladesh lack basic safety facilities such as fire alarms and sprinklers despite identifying thousands of safety hazards, reveals Accord data. The 63 Bangladeshi factories that produce for French brand Carrefour do not have a fully installed and verified fire alarm system while 43 lack completed sprinkler system. These factories pose a major risk to worker safety post Accord expiration, and a liability risk to Carrefour, says Carolijn Terwindt, Clean Clothes Campaign.
The Ready-made-garment Sustainability Council (RSC)'s mechanism alone cannot fulfill the human rights due diligence obligations in Bangladesh. The council fails to hold brands accountable for their actions. Bangladesh therefore, needs a legally binding agreement that mandates brands to continue supporting the Accord's work -- including operating factories safely and providing them with financial assistance to so. Brands refusing to renew Accord would be solely responsible for future risks they face, adds Ben Hensler of Worker Rights Consortium.