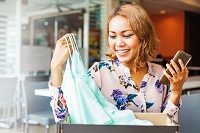 A recent webinar on retail and ecommerce by CommerceNext, for marketers in New York showed, the global apparel sector is cautiously optimistic as around 49 per cent apparel retailers reported a jump in their online apparel sales from March 29 to April. Sucharita Kodali, Vice President and Principal Analyst at Forrester Research, and J Bennett, Vice President Operations and Corporate Development at fraud protection platform Signifyd shared this view. Kodali said, apparel retailers are rapidly moving towards their sales goals by exploring the e-commerce platforms.
Around 43 per cent retailers reported their online sales tracking significantly ahead of their set goals. Another 56 per cent retailers credited this bump to store traffic migrating online, while 49 per cent attributed it to driving demand via marketing.
Intimate brands benefit as ecommerce sales surge
Rebecca Traverzo, VP-marketing at Thirdlove said, intimate brands are benefiting the most from this trend as consumers are feeling a lot more confident
in the economy and are less concerned with a possible recession. They are spending money not only on essentials. Seeing this positive trend, the brand is cautiously planning its future actions.
Bennett views fashion and footwear as the two e-commerce verticals to have overcome challenges and continue selling during the pandemic. Though both these categories saw a pullback early on as consumers flocked to essential retailers for their online shopping needs, they have seen resurgence in the weeks since.
Signifyd also revealed though gross merchandise value (GMV) for fashion purchases that averaged $250 or less was at its lowest in the week of March 16, it has skyrocketed more than 50 per cent by April 13. A reason for this could be that retailers have been able to refocus efforts to delivering online, opined Bennett. They've gotten their fulfillment centers deemed to be essential, set up safety requirements so that their employees can work safely in these.
Product launches, efficient marketing mantra for success
Bennett also emphasized that many of these sales are driven by promotions, which makes it unclear just how much of these need to be maintained. In fact, there was a major difference in the dynamic between fashion purchases averaging $250 or less, versus the much smaller segment of those averaging between $250 and $550. These purchases peaked during the week of March 23 due to excessive promotions timed with new product launches, before leveling off in the two weeks afterward. Bennett said new product launches, when handled with efficient marketing are experiencing excellent success.
Though ThirdLove too experienced similar rebounds from both CommerceNext and Signifyd starting from April, the company has not done promotions or discounts for its brand throughout the pandemic. Moreover, they are seeing a drop in returns during COVID-19. It has also opened up a partnership with Returnly for customers to be able to return packages at their local establishes. Even Signifyd revealed a 25 per cent decline in returns due to lack of access to process a return, and new users typically generating lower return rates.