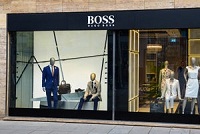 The shifting of wholesale brands to direct-to-consumer channels during the COVID-19 pandemic has opened up space for smaller independent labels in large department stores and multi-brand boutiques. A department store group adapting to this change is French retailer Galeries Lafayette, which counts mass-market brands like Sandro, Maje, Claudie Pierlot and Comptoir des Cotonniers among its list of longstanding partners. They now plan to replace these three to four smaller, digital brands to target specific customers at specific stores. The retailer plans to grow the share of smaller labels at its Galeries Lafayette stores from 30 to 40 per cent over the next few years.
Galeries Lafayette isn't the only retailer opening doors to a wider cohort of new fashion talent. UK-based retailer Selfridges too has been
bringing in platforms like Fashion East and independent designers such as Rejina Pyo and Charlotte Knowles. The retailer has also launched pop-up stores to feature curations by Instagram, Highsnobiety and artist Daniel Arsham.
An opportunity for brand experimentation
According to Ida Petersson, Buying Director, Browns, it is difficult to predict how this shift will ultimately affect retailers. One of the disadvantages for retailers is that it makes their merchandise niche. However, Petersson believes it is important to support new and emerging brands.
Giacomo Piazza, Founder of Milan-based multi-brand showroom 247, believes reconfiguration will continue as the pressure to connect directly with consumers weighs on established labels. This gives retailers more opportunities to fill the gap left by bigger brands. This approach has enabled Selfridges to defy the industry-wide decline by adopting a youth-centric strategy and stocking labels of new and upcoming designers. Similarly, it has helped Galeries Lafayette to attract a new clientele. Working with independent designers has also made the group's business model more flexible besides allowing it to test newer brands to roll out across its wider store network.
Be experiential
Though this trend of box retailers adapting their offerings to that of independent designers is welcome, it is replete with several challenges. The foremost amongst them is fear and apprehension about the unknown amongst shoppers. Though shoppers expect retailers to introduce them to new brands, they still look for their tried and tested names which boost financial capabilities, says Steve Dennis, Founder and President, SageBerry Consulting.
Hence, retailers need to find a mid-way by stocking both established and new brands, says Dennis. He recommends stores to adopt an aggressively experimental mindset to test out new business models and brand curations but refrain from shifting their offerings completely. On their part, younger designers should work on improving their operational efficiencies, building sustainable production relationships and negotiating workable deposits.