Around 175 Russian and foreign designers presented their new collections of clothing and accessories at the just concluded Mercedes-Benz Fashion Week Russia. These included KETIone, Dokuchaeva, 21Dot12, Arut MSCW, NVIDIA x Snezhana NYС, etc. Some of the shows during this season were held at Alena Akhmadullina – Museum of Moscow, Alexander Arutyunov – new location at Museum of Fashion, Gostiny Dvor.
Latest collections by Moscow designers at Futurum Moscow
Futurum Moscow, held on October 12 in the Museum of Moscow, presented the latest collections by emerging Moscow designers' brands and artists. The event included the shows Lumiér Garson by Jean Rudoff, Volchok, Otocyon, Hovanskie, Citizen_A, Odor, Daria Lukash, Seti, Maria Iliynishna, FactiveFace, Alkhanashvili, Be.Li.Ve, Dinara.Murasova., Not Today, kruzhok, SVARKA, six one six. Vasilisa Vetrova, will present her show, too.
A special private show by Slava Zaitsev showcased his historical project Heritage: collection of 1997, Russian Seasons in Paris, dedicated to Christian Dior's New Look.
Pop-up shows
The event also included pop-up Shops by Manege: six one six, Angela Le Bourgoise, Britanart, Dokuchaeva, Fakoshima, Intelligentsia , Lala Laguna, Leather Like Wood, Lumiér Garson by Jean Rudoff, Mad Daisy, Marusia Nizovtsova , Muus Lena Maksimova, N1 Jewelry, Neuroses Jewelry, Noel Concept, Oriori_Studio, Otocyon, Popmolly, Ranzel.Store, Rare, Scapegoat_404, Sniff, Spunky Studio, Tamta Shindelishvili, Varvara Zenina. etc.
A short-term designer pop-up shop was opened from October 13-16, 2018 where 70 Russian designers showcased their clothing and accessories, gowns, sweatshirts, bags, and fashion jewelry.
During the Pop-up Shop, public lectures were read by Igor Andreyev (ex-editor of Numero, founder of Inside project), Dmitry Stepanov (New Product Development Director, Yandex), and others. Trendy DJs and music bands created the atmosphere at Pop-up Shop: Misha Hillary, Arut Mscw, Zakharov Andrey, Abraam Ft. Mc Koshka, Shoo, and Sattva. At Pop-up Shop, the global bestseller This is not a f*cking street style book was presented by its author, Adam Katz Sinding, along with the book signing.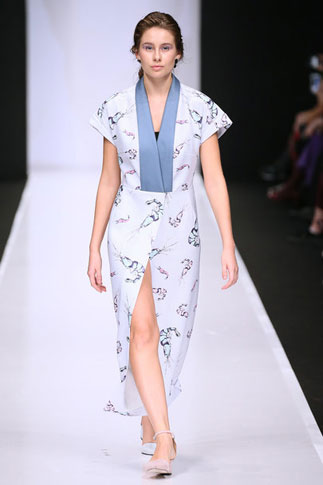 Spreading his fragrance
A special guest of Mercedes-Benz Fashion Week Russia included Christophe Laudamiel, the creator of fragrance bestsellers Polo Blue for Men Ralph Lauren and Fierce Abercrombie & Fitch, and other scents for the likes of Beyoncé and Helena Christensen, as well as well-known brands like Tom Ford, Burberry, Michael Kors, Tommy Hilfiger, etc.
Social campaign for pregnant models
Mercedes-Benz Fashion Week Russia alongwith the Ministry of Healthcare of Russia launched a social campaign 09.giveBIRTH to Fashion where 13 Russian fashion designers prepared special looks for pregnant models. Among these included Igor Gulyaev, Yasya Minochkina, Oksana Fedorova, Julia Dalakian , Angela Le Bourgeois, Malina Fashion, Lena Karnauhova, Yuliakosyak, Yakubowitch, LiaGorg, Zabegina, Naira Arutyunian, Mad Daisy.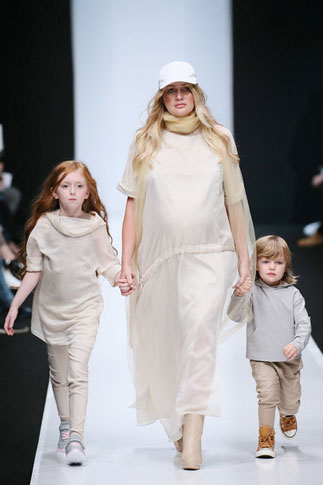 I-Inclusive
Mercedes-Benz presented the I-Inclusive show by Ksenia Bezuglova which focused in designing functional modern attire and accessories for people with disabilities.
DHL showcases capsule collection
DHL pieces were showcased from the sensational capsule collection Vetements x DHL. These included branded polo, gowns, baseball caps, socks, and iconic yellow DHL T-shirts. The automotive catwalk star of Mercedes-Benz Fashion Week Russia was the the new S-class sedan.
The title partner of the Fashion Week was Mercedes-Benz. Its MBFW Russia partners included IWC Schaffhausen, Harman and glo as the Official partners, L'Oréal Professionnel as the Official Stylist, Mary Kay as Official Make-Up Artists, DHL as Official logistics partner and Metropol as the Official hotel.