The 15th Preview In Daegu Fair provided an excellent opportunity to network with textile buyers from all over the world.
The recently concluded 15th Preview In Daegu Fair (PID 2016) held at the 1F EXCO, organized by Daegu Gyeongbuk Textile Industries Association was well received by the industry across the world. There were over 272 participating companies from over 25 countries including China, Taiwan, US, India, Japan, France among others. The fair was categorized under yarn, fabric, functional, industrial, eco fabric, design home textile, accessories, etc.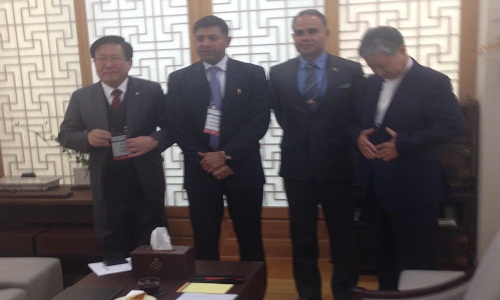 The three-day PID fair from March 9 to 11 also had events like Trend Forum/Seminar, BiZMatching, Textile Experience Zone, etc. and visited by the Korean President. According to Alkanes Lee from Turkey Clothing Manufacturing Association and Director of 'Nani,' "The Fair offered excellent fabrics and textile machinery to show, something that Turkey is still missing." He was looking for networking opportunities and to establish good relations with companies engaged in 3D stereoscopic synthetic fiber, fabric materials, knit wear suppliers etc. Italian MCS men's fashion brand marketing director Aovid Pickens Earl averred he was at the fair to watch latest fashion trends and was fully satisfied.
Said Keun Hoo PARK, Senior Manager, Hansoll Textile Fabric, R&D in patterns is important in fashion industry. To cope with the latest trend and market implications, manufacturers should do proper R&D first.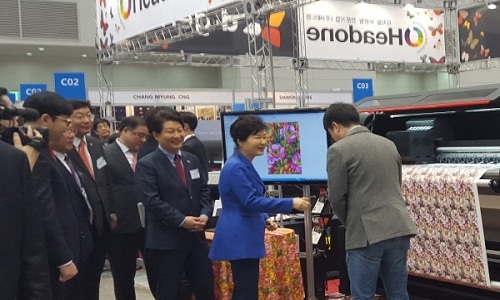 According to Seoongho BAE, Managing Director, Hyungji Sourcing, "Due to instability in the industry and low growth of local market, consumers will spend less on clothes. So it is important to introduce appealing patterns and designs to attract more consumers." Jay Yoon, Managing Director said his company is geared to make use of the prevailing market situation by focusing on ladies sportswear by making use of their manufacturing facility in Vietnam at competitive prices.
Commenting on PID, Indian Ambassador to Korea, Vikram K Doraiswai emphasized the need to strengthen ties between India and Korea. For this, he said, "The most important thing to be done is to work sector by sector, to pick areas of Korean expertise, where India can use Korean partnerships. The garment industry is one of the biggest job generators. For us the fastest way to move up the value chain would be to expand our capacity to produce high quality garments in high volumes for export and for the domestic market. That would reduce our reliance on textile imports," he opined. Korea offers India that great opportunity since its textile industry is looking for partnerships. The higher cost of production makes it imperative for them to find new markets. So India and Korea needs to build these partnerships, added Doraiswai.
According to John Lee, Director, Exhibition Project Division, (PID, KOREA) rather than attracting a large number of people in the exhibition, PID is looking for more profitable quality exhibitions. The management of materials, buyers, information of products are necessary and important than the sheer size. Buyers at Preview In Daegu was happy to have time to see higher quality textile materials and variety of products with great innovation, Lee added.
This year's PID provided an excellent chance to meet and network with textile buyers from all over the world. It was an excellent opportunity for companies that are looking into Asia Pacific market (China, Vietnam, US, Indonesia, Japan). This year, especially overseas big buyers increased steadily. Many big buyers actively participated. Takesada from Japan, Osmanbey from Turkey, Gerard Darel & Pablo from France, Scott Sport from US, Performance Day from Germany were a few of the big names at the fair.