Trends coming from cities New York, Milan, Paris and Tokyo , considered the fashion capitals of the major export markets for international garment trade, are studied by Directions Trend Committee, selected by Messe Frankfurt (HK)every season. The committee members combine their expertise and local in?uences to come up with the themes that tell the story of tomorrow's apparel fabric trends. The trend committee consists of Donger Creative Services, USA, Nelly Roddy Agency, France, Elementa RModa, Italy and Sachiko Inoue, Japan. The trend direction for Autumn Winter 2018/19 are divided into major themes as Origins, Humanity, Hygge and Subversive
1 Origins
Wild Nature. Raw. Primitive
2 Hygge
Cosy. Well Being. Sensual
3 Subversive
Cultural Mixes. Contrasts. Powerful
Humanity
AW 2018 / 1 9
Human connection, invention and instinct are the common threads explored within each trend, and reflect the spirit of the time. We are moving into a society that craves a human presence and the desire to focus on essential values due to the advancement of technology. We are creating a respectful relationship with the planet and its people, promoting a more harmonious lifestyle where the world's traditions are acknowledged.
Origins
Wild Nature .Raw . Primitive
There is a new appreciation for the simple things in life, urging us to go back to the land and reconnect with our ancestral instincts. The soul of a handmade object is celebrated. Responsive design emerges from forward- thinking craftsmanship, intertwining technology with primitive and raw materials. From the deep woods to the open prairie, the outdoor landscape is a world without borders, allowing for new inventions to emerge.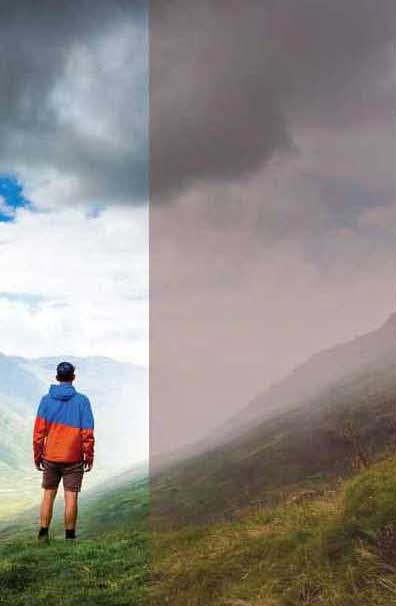 COLOURS
Woodland Darks Dusty Earth
Active Brights Accent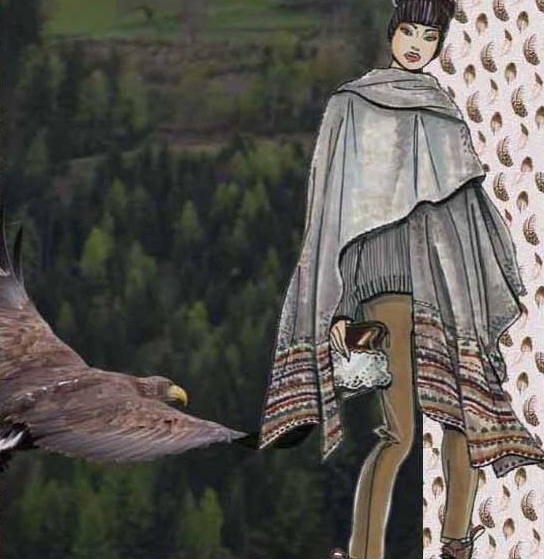 FABRICS
Rustic & Soft. Technical & Performance Enhancement.
Wild Fur: Fox. Wolf. Raccoon. Feather.
Tweed: Dishevelled. Rough yet soft. Homespun.
Felt: Coarse. Compact. Protective ?nishing.
Weatherproofed.
Canvas: Coarse. Slubbed. Ondé yarn.
Jacquard: Random pattern. Needle punch. Organic texture.
Knits: Shaggy. Bouclé and hair. Fur-like. Multiple yarn mixes.
Fleece: Woollen. Knit backed. Felted. Mélange.
Yarn-Dye: Blurred plaids. Washout and worn. Relief structure.
Corduroy: Double faced. Washed. Printed. Denim: Raw. Linen blended. Crosshatch. Twill: Pigment-dyed. PFD.
Performance: Protection. Sporting and active minded.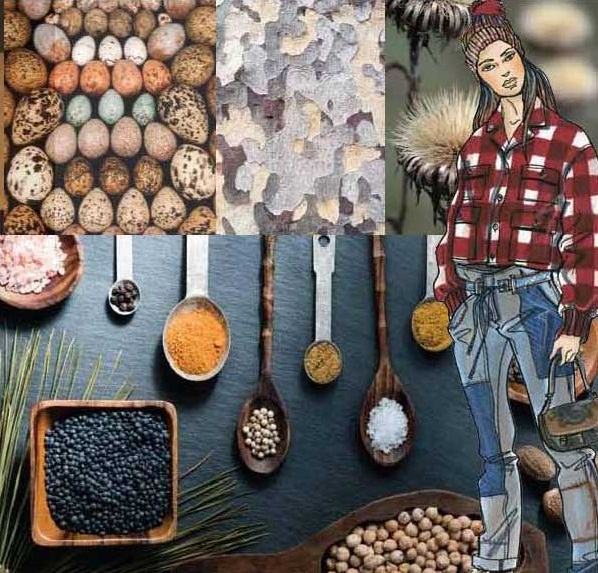 PRINTS
P ri m i t i v e & O rg a n ic .
Nature-Inspired:
Tree and woodgrains. Wild ?owers and leaves.
Animals/Reptiles:
Bear. Fox. Rabbit. Bird. Skin and feather.
Hygge
In today's fast-paced, modern lifestyle it's important to have quality and a balance of comfort and well-being. We look to nature and the Renaissance for inspiration as we slow down, creating a relaxed formality in our home. Genderless colours and lofty fabrications are key for a soothing and sensual environment. Learning how to do practical things well and taking care of yourself becomes top priority.
COLOURS
Cosy Neutrals
Precious Pastels
Copper Accent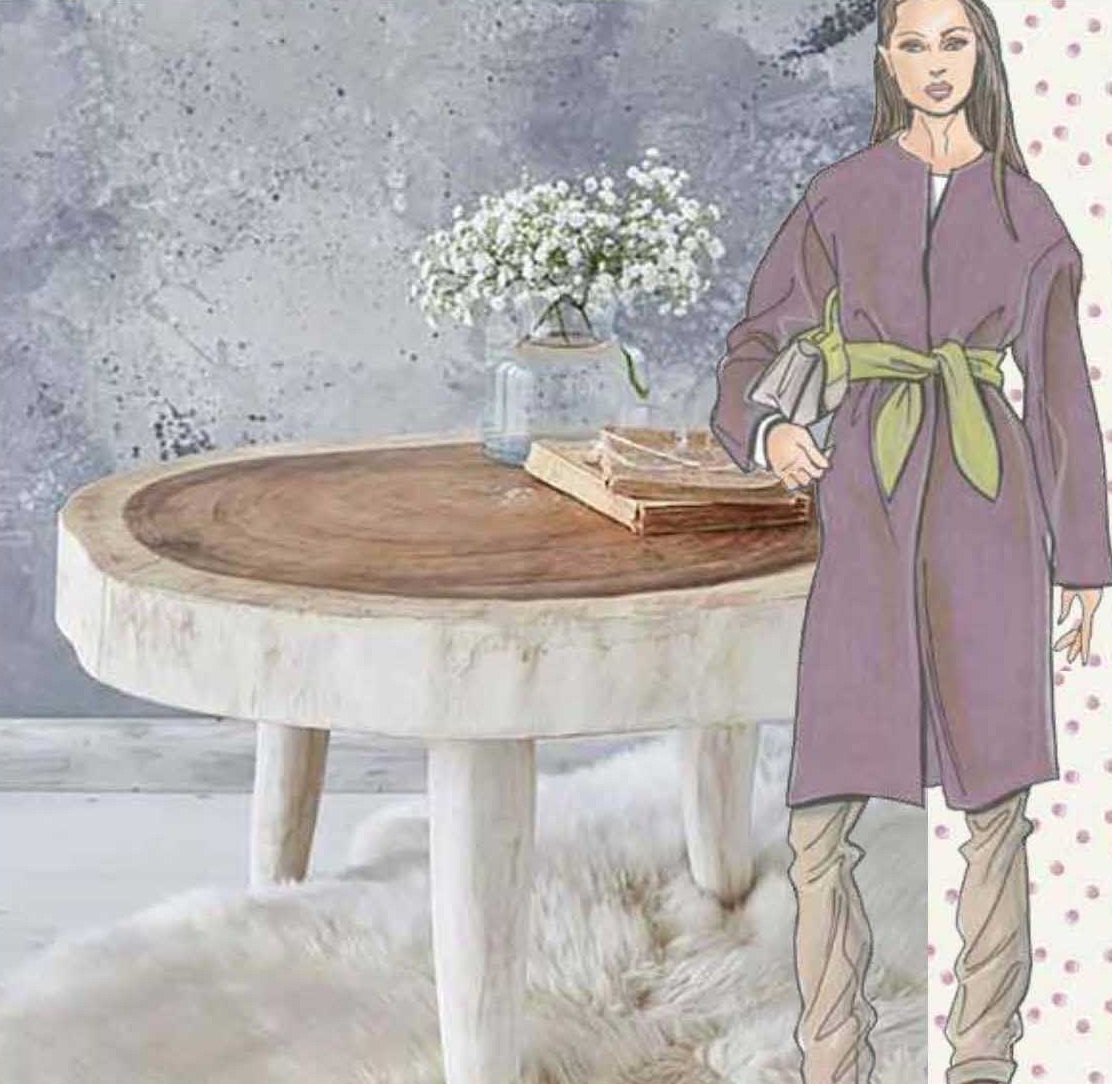 FABRICS
Sensual & Light. Simple & Decorative.
Plush: Hair. Cashmere. Melton. Felted. Flannel. AIRO ?nishing.
Tweed: Precious. Exaggerated weave. Metallic touches. Embroidered.
Suiting: Mélange. Mouliné. Tonal checks. Menswear plaids. Crepe: Grainy structure. Light and ?uid. Double and airy. Jacquard: Tone-on-tone. Matte and shine. Matelassé. Blurred. Cut threads.
Velvet/velour: Burnout. Printed. Powdery touch.
Satin: Silky. Burnout. Fluid.
Sheer: Shimmer organza. Chiffon. Creased gauzes. Knits: Chenille yarn. Heavy crochet. Ornate jacquard. Lurex touches.
Jersey: Silky surfaces. Polished shine. Pointelle.
Pile: Uncut and ?ne corduroy. Moleskin.
Technical: Hybrid basics. Synthetic blend. Performance.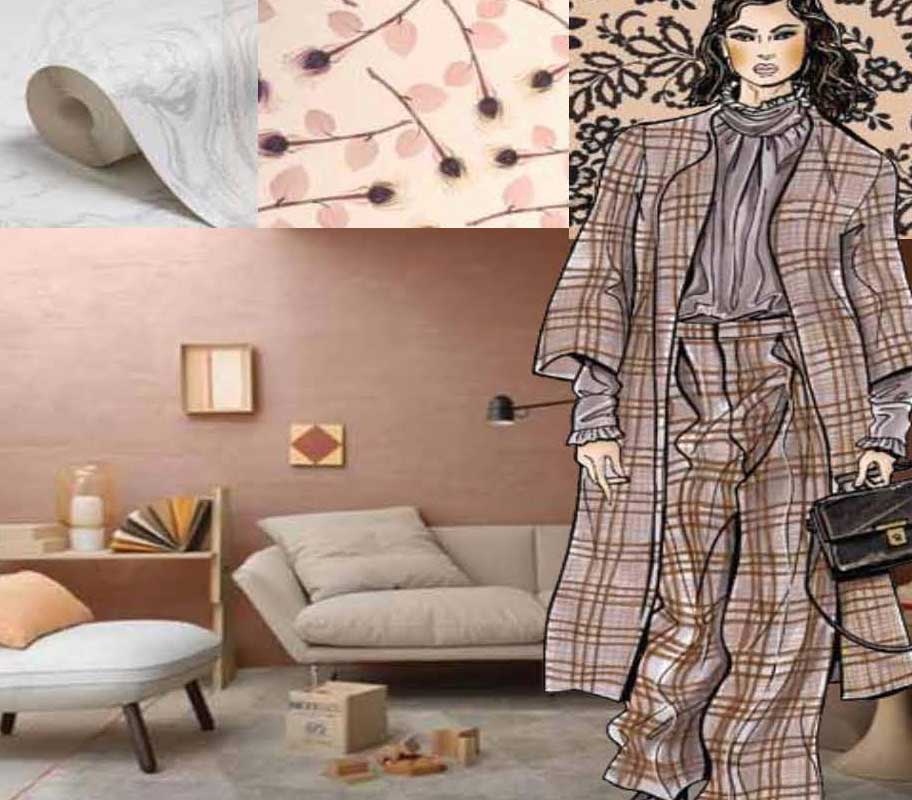 PRINTS
I n t ri c a t e & C a l m .
Home-Inspired:
Wallpaper. Floral. Marble effect. Tiles. Flocked.
Photographic:
Painting. Sceneries. Inkjet.
mixes .Contrasts . Powerful
Subversive
Cultural mixes .Contrasts . Powerful
A textural kaleidoscope of the past and present create a mashup and powerful collage. As generations and cultures mix together, a strong and contrasting visual story emerges. Cultural prints with folkloric motifs and ?orals mix with the classics like vintage geometrics and multi- coloured stripes. With today's interconnectivity we dive deeper into the roots of the world, resulting in a new form of art that combines craft and technology together.
COLOURS
Rich Deeps
Vibrant Brights
Contrast & Crashed
FABRICS
Opulence & Classic. Craft & Tech.
Fur: Fun. Multi-coloured. Wild Animal. Blanket: Hair. Oversized plaids. Double faced. Ornate printed. Tweed: Fancy and kitsch. Grandma rework.
Synthetic: Modern. Plastic. Pleather.
Jacquard: Rich brocade. Double faced. Folkloric ?oral.
Dynamic graphic.
Velvet/Velour: Printed. Burnout. Crushed. Embossed.
Shine: Satin, Taffeta. Metallic. Opalescent.
Knit: Jacquard. Raschel laces. Lurex. Cellophane. Jersey: Burnout. Coloured metallic. Eyelash. Spandex. Denim: Worked. Jacquard. Printed.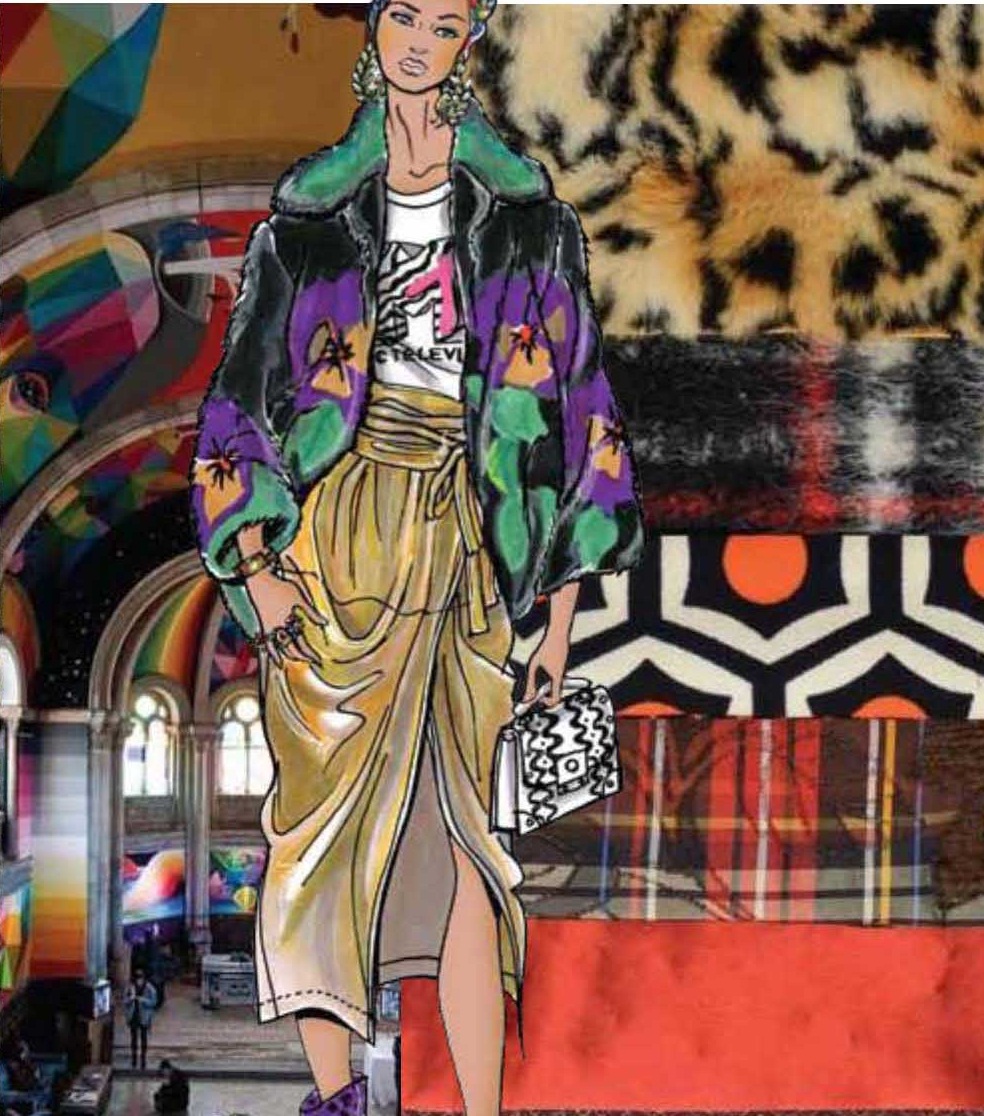 PRINTS
N e o C l a s si c & R e m ix .
Classic: Antique wallpaper. Vintage geometric. Perspective plaid.
Cultural: Folkloric motifs. Floral. Mix collage. Art. Colourful stripe.